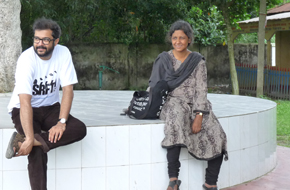 The Travelling Archive shares with readers and listeners selections from a growing collection of folk music of Bengal, recorded in the field by Moushumi Bhowmik and Sukanta Majumdar from 2003.
This collection of songs and conversation recorded between 2003 and now, is sorted on this website by the year of recording, with descriptions of the recording sessions, while the audience/viewer are shown a map of the region from where the music comes. The music, which is still largely part of an oral tradition, is presented in the context of its place of origin, the lives of the people who live in these places and the history and politics of the musical tradition it represents. There are other questions of voice, topography, instrumentation, form, text, authorship, gender and so on, which also come up. However, all these issues lie embedded within an impressionistic narrative of each individual trip, bringing out impulses and idiosyncrasies of both the listener/recordist and the singer/community and the dynamics of their encounters.
More than two years since we launched this website, after much deliberation and dilemma, listening to opinions on different sides of the copyright debate, with legal practitioners and scholars like Lawrence Liang reminding us that there is something we owe to what we own, we have decided to upload full songs to represent each recording session, and not just 2-3 minute clips. The significant presence of original music on spaces such as soundcoud has given us the courage to do this, because we believe that trust is what virtual archives and social media survive upon. Those who frequent these spaces usually also follow a certain ethics of listening/reading and sharing. We put up whole songs and original recordings and film clips with the belief that listeners and readers will show as much respect to the artists as we have tried to show them and no one will engage in any unethical buying or selling of the material held on this site—neither the recordings, nor our writings, the writings of others, photographs, film clips and other artworks.
Through these years, we have gone from place to place following our instincts and our recording sessions were all based on 'trust'. Vague as it might sound, trust has till now been far more important for this journey than a piece of paper holding the terms of some legally binding contract. But, how to quantify 'trust'? Our artists gave us their music on the understanding that we would not go about selling their work, but they were mostly happy that we would do something 'worthwhile' with them. (Travelling Archive Records is of course a different question and we follow other sets of rules while working on that commercial project.) But so far this website is concerned, how to claim that what we are doing is worthwhile? We worked with small grants and shared our money with whoever willingly took part in our project. This is why we believe that as fellow-listeners, you too will honour the 'trust' on which this website is built. If you consider your listening experience worth its while, then that is all we ask of you. Listen and ask others to listen. That is all that there is to The Travelling Archive.
The Travelling Archive is not merely the story of a personal journey through a world of music, but it is also about other journeys that musicians and scholars have been making, mainly in Bengal, as well as in other places within the Indian Subcontinent, for at least a hundred years. In so doing, The Travelling Archive tries to take its own collection beyond regional boundaries, while placing this research in the larger context of similar research on folk music. The Related Research section of the website is dedicated to the work of others.
Space is an open page that holds a plural of voices. It is about the diverse paths that this journey is taking and the many possibilities that are opening up for us through our work. It is also about the journeys that others are making in their own fields, in some near or distant way related to the work of The Travelling Archive. Moreover, 'Space' also holds different perspectives of seeing and listening as expressed in the responses of our listeners and readers.
In Tributes, we bow before our gurus and murshids, friends and guides. It is our page to talk about the inspiration that we have directly received from the work of others.
Finally, there is the exclusive space for your comments which we have created at the bottom of each recording session and we ask you to join in with your clarification and contradiction, question and endorsement, debate and discussion. One thing to note is that, while most of the text on this website is in English, we have begun to include more Bangla in our writing and hopefully in the coming years this site will become truly bilingual. Please feel free to write your responses in whatever language gives you comfort.
And contact us if there is something you want to say or ask. We are always eager to learn more.
Notice Board
Shibaditya Sen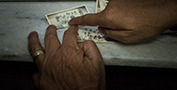 We mourn the passing of Shibda, Shibaditya Sen (1952-2018), our teacher in Santiniketan. Gone too soon, and another light has faded out of our sky.
Read more in our tribute page
Next