SHIBDA, A NATURAL KEEPER OF KNOWLEDGE
We mourn the passing of Shibda, Shibaditya Sen, our teacher in Santiniketan. Sukanta and I knew him separately as highschoolers, in different decades. Sukanta, more through growing up in and around Santiniketan; me, as Shibda's direct student.  However, it is our work together as/for The Travelling Archive, especially our work on Arnold Bake, which took us to him again.

In 2016, we went to Shibda, no longer just the economics teacher of our Uttar Shiksha Sadan days, but Shibaditya Sen, a natural keeper of knowledge about Santiniketan, also grandson of Kshitimohan Sen, the scholar whom Arnold Bake had befriended early in his stay in Santiniketan in the 1920s, and from whom he had learned so much–about the bauls and Kabir and other mystic poets. We needed to know about the Bake-Kshitimohan connection, we needed to know about that time in their lives and in the life of Santiniketan, and Shibda very generously opened his resources to us. His world spanned over and beyond Santiniketan. His lifelong work as a teacher of Suri Vidyasagar College had certainly given him other bearings and insights. He wore lightly both his family history and his knowledge, but was most giving of his gifts, while making endless cups of subtle tea for his students and friends.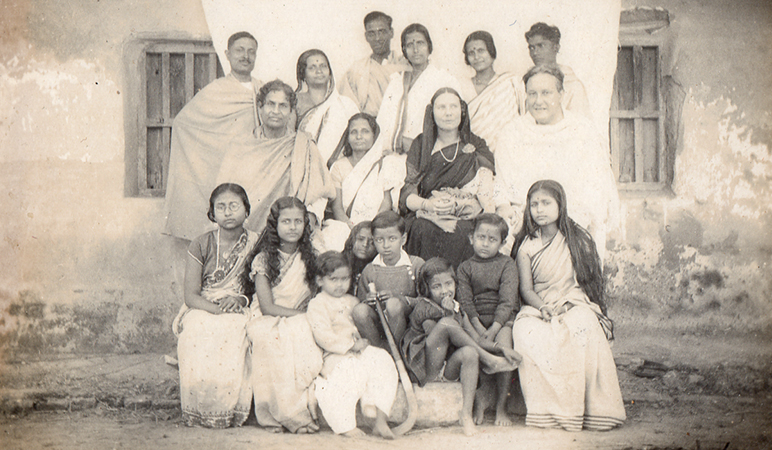 Kshitimohan Sen and the family with Arnold and Cornelia Bake. Photo courtesy: Shibaditya Sen

Shibaditya Sen was my economics teacher when I joined Uttar Shiksha Sadan (the pre-university college of Visva Bharati, Santiniketan) in 1981. He was young, but I think his pace was already set by then, he did not seem to be in a hurry for anything. There was a certain cadence in his speech, a softness contrasted by a loud rolling laughter. I was not a serious student and did not show any talent for economics, I am sure about that, yet he did notice me for whatever I was and took me under his special tutelage, simply taking the teaching beyond the classroom and the topic of our study beyond coursework. That open terrace in his house which he later converted to a room with many windows, a kind of a lounge, was as inviting as could be. One afternoon I was passing him on campus and he stopped and said, come by in the evening to my home; bring whatever you have written with you. I wrote bits of things in my little book, but he was not supposed to know about that. Hence, he must have had an intuition. That evening I went and tentatively opened a piece of paper which I had folded many times into a neat square and read out my little prose-poem about a boy asking his mother where home was. I remember all this so vividly as someone in the audience had said that day, that sounds like Subarnarekha and I did not know what he meant, as I had not yet seen any of Ghatak's films. I might still have a copy of that piece of writing in one of my old notebooks.
The reason for writing this in detail is because later, when I have thought about Arnold Bake and his time in Santiniketan and about how he felt both a part of Santiniketan as well as alienated from the institution, I also thought of how his friendship with Kshitimohan Sen had remained untainted till the end of his life. There was no clash of interest between the two friends, but there were others, important members of the Santiniketan community, who did not want to give Bake room and who even influenced Tagore's opinion of Bake. In 1956, the last time that Bake came to India, when he wrote to Kshitimohan about his visit, the latter wrote back to say, 'I am no longer the same my friend, I am not well and I cannot get out of bed.' (Shibda had looked at that postcard and said, that must have been dictated to one of us, it wasn't our grandfather's handwriting.)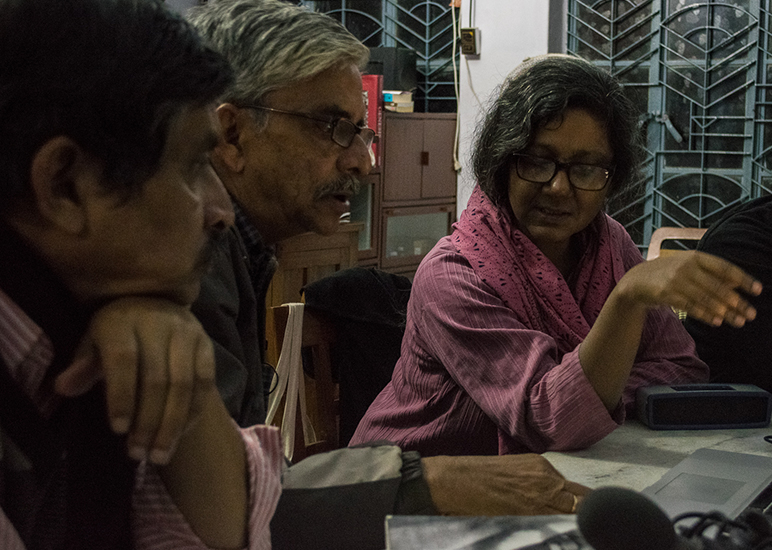 Shanto da and Shib da. Sharing their storiess and pictures with us about Bake. January 2016. Santiniketan. Photo: Jan-Sijmen Swartz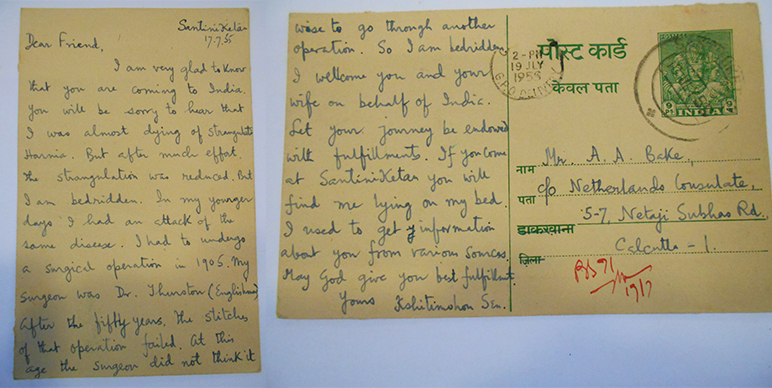 Letter from Kshitimohan to Bake. Photo from Leiden University Archives.

That ability to embrace the outsider with open arms must run in the family. My last communication with Shibda was on Facebook and it went like this:
17 May 2018
shibda, tomar shonge oshukher katha bolbo na. ami jantamo na, kintu tumi ashole amar kachhe onyo rakam. tomar jonyo bhabna to hocchei, kintu nijeder jonyei ashole bhabna hocche. tumi ashustho hole amader khoti.
tai borong onyo katha boli. tumi anjana dey ke cheno to. ke tini? amake tnar ekta jogajog debe? ami savitri krishnan er poribarke khunjchhi. anjana dey ekta youtube post korechhilen, maane ami dhore niyechhi jini post korechhilen tini aar tomar post e tag kora ek anjana eki byakti, because of the Santiniketan connection.
ami shei anjanake ekta msg korechhilam, uni mone hoy dekhen ni.
Shibda wrote back on 1 June
Anjana Dey Canada y thaken. Sabitrikrishnan er songe onr jog Santiniketan er i madhyom e. Exclusive kichhu na.
Sabitrikrishnan er Bangalore e guardian hoyechhilen ekta advut poribar – je KC Nag ra Rasogolla toiri koren…

.
Onder kono meye Sabitridi r kachhe jeten.
Kolkatay khabor rakhen ,shunechhi, ex vc Dilip Sinha. Oi KC Nag der shutre.
Ami Anjana ke jigges korte pari Sabitri dir jnara Canada te migrate korechhilen tnader kono khabor rakhen ki na.
To which I replied:
shibda, ami just Bangalore theke phirlam. okhane jabar aage narudar madhyome kutuludi (sukanya sinha) aar kukai da r shonge katha hoyechhilo. onra khanikta hodish dite parlen, abar parleno na. oi shei KC Das er poribarer jini, tnar kathai dujone bollen. Biren Das bodhhoy. Amake phone number diyechhen. Ami onke jiggesh korbo. Aar bollen je Sunandan da o hoyto bolte parte paren. Onke jiggesh korben Kutuludi, bolechhen. Ei bar to aar egono holo na, tumio dekho jodi kono shandhan pao, amio dekhbo.
That day, 1 June 2018, at 21:23, he wrote:
Besh. Khnoj rakhbo.
That was the last time we wrote to one another. Again, the worlds were colliding. Seventeen-year-old Savitri Krishnan was recorded by Arnold Bake in 1931, in that same world of Santiniketan where the Bake-Kshtimohan friendship had blossomed. Inspired largely by Kshitimohan Sen, Arnold Bake had started to listen to the bauls and follow the songs of Kabir with keener ears and subsequently recorded some of them. The process had begun early in his stay in Santiniketan for, on 24 February 1926, Bake had written to his mother:
'He [Kshiti] is a remarkable man, both of a scientific mind (he loves philology, for example, and even grammar – it is a pleasure to have language lessons from him) and incredibly well-read, so that he can provide the historical context for everything he talks about. At the same time, he keeps this treasure trove of beauty as a living possession; he is one with his knowledge, so that, when he talks about these things, it flows out of him naturally and incessantly, from stories to poetry and always in such a way that nothing he says is ever redundant. […] In addition to that, he has a jolly sense of humour and is entirely the opposite of a fanatic, a healthy living human being through and through. I imagine him the kind of person Kabir must have been, the great mystic, who never gave up his household and job but regarded everything as part of the greater whole.
'You should see him when he reads, with his head cocked and wearing his large, black glasses. When he talks he does just like you: he'll look over his glasses, especially when he says something funny. I plan to try and relate some of what he told me, but it is so incredibly difficult, so I doubt I will succeed. A number of the mystics never founded a particular sect, and their products were lost, except among those groups of freethinkers (Khiti always refers to them as non-conformists) in which the tradition was kept alive.'
(Source: Letter archived in the Special Collections of the library of the University of Leiden. Translated from the original by Jan-Sijmen Swartz)
Shib da showing us photographs from his collection. Photo: Jan-Sijmen Swartz
I read amazing parallels between this description and our memory of Shibda.
What to do when someone is gone just like that, in the blink of an eye? Shibda had given to us some beautiful photos from their album, of the time when Bake and Kshitimohan and their families were friends. The photos triggered memory and there was so much fun in the stories he told us about Santiniketan and its people. With those stories we have been engaged in what my teacher Amlan Dasgupta would call an 'unpacking of the anecdote'. A map of a time and place unfurls before our eyes as we listen to Shibda's stories, joined in by his wife, Sumitadi; Shantoda, his twin brother, adds a point here and there. That was a great evening. Our student and friend Jan-Sijmen Swartz had taken many pictures that day. Shibda told us about a (polaroid?) camera Bake had come with on his last visit, and the twins, Shib and Shanto were called to pose for a picture. Shanto was brave and he went and stood before the camera. Shib was nowhere in sight.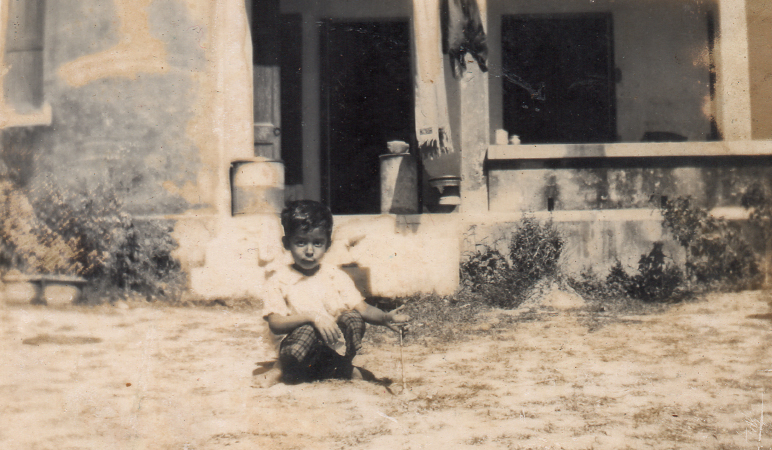 'Shanto was brave and he went and stood before the camera. Shib was nowhere in sight'. Photo courtesy: Shibaditya Sen
By the year of Ksitimohan's centenary, Shib and Shanto were young men, and in their house they were hosting another of Arnold Bake's collector friends from Bengal, another man from the world of baul scholarship, Muhammad Mansuruddin. Mansuruddin, of Haramoni fame, whom Bake had worked with in Naogaon, Rajshahi, in 1931. This pioneer collector and scholar of folk songs from Sujanagar, Pabna had come with his daughter to Santiniketan and had stayed in Kshitimohan's house for a month at that time. It was the same time when a group of bauls from Kushtia had come to sing at the Kshitimohan centenary celebrations in Santiniketan. And, Shibda had two audio cassettes from that time, which he had given to me to digitise. I had been meaning to get this done, but our cassette player was broken and only now we have been able to digitise the tapes, with help from our new colleague, Arijit Mitra. I was meaning to take the files and the original cassettes labelled 'Lalon Akhra' back to Shibda. But he gave us no time.
It is true that every death diminishes us, but some create a wider void than others. With Shibda gone too soon, another light has faded out of our sky.
Written by Moushumi, 15 September 2018