Moushumi Bhowmik, singer and writer, initiated this journey through folk music in Bengal She has conceptualised this site, with sound recordist Sukanta Majumdar
The Journey: Unfurling the Map
by Moushumi Bhowmik
In the beginning it was just a personal journey, a random collection of songs from the road, with no particular purpose or method in mind. I was picking up music with which I could instinctivelyconnect, as a musician. There was no route map laid out before me, only repeated visits to music stores of Patuatuli in old Dhaka which sold folk music of Bengal, during my trips to Bangladesh for reasons other than music, between 1994 and '97. Cassettes began to pile up on shelves at home in Kolkata, many of which remained wrapped in cellophane, gathering dust. But some I played over and over till their songs started to become part of my own repertoire. Then I wanted to know more than just the song.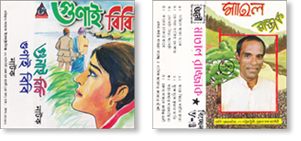 There was something about those sharp and piercing voices of women, something with which I indentified both as a singer and as a woman. Momotaj , Aleya, Saleha, Nargis Akhtar. . . Bondhur bari amar bari je, modhye premer nodi/Uirya jaite daey na pakha re, kaar ei darun bidhi re,/Morlam bondhur pirite. My friend and I, on two far shores/ The river of love flows by/ Who set us apart, by what cruel law?/ Why haven't I wings to fly?/ O, I die for my friend's sweet love. In a sense, it was this cry of "bichchhed gaan" or songs of separation that set me thinking about the whole idea of separation and our longing for union while in this state of separation. The Bengali word for this state of being is biraho . What is this biraho we sing about, what or who is it we are separated from, longing forever to be united? Is it a person, a place or maybe something in our memory or imagination? Is it a physical or metaphysical experience or can it be both? I wanted to go on a trail of songs of biraho in the folk music of Bengal. I lived away from home at the time, in London, and setting out on this journey was for me also a way to return home. Through the years the journey has made me muse on what home really is and where it is that we are always seeking to return.
Not just our bichchhed singers, but also things like the sensuous voice of Pratima Barua, singing of loveless marriages and unrequited love in her Goalparia dialect; plucked notes from Dhiraj Uddin Fokir's dotara in Ritwik Ghatak's Titash Ekti Nodir Naam; baul brothers Purno Das and Lakshman Das singing ecstatically at the Big Pink on their 1968 LP; the resignation in the voice of the East Bengali refugee Haripada Debnath, recorded in Benaras in the 1950s both by the French musicologist Alain Danielou and Bengali ethnomusicologist Deben Bhattacharya—they all propelled me on my journey through songs. I felt as if I shared some sort of lineage with this music as a musician, and I wanted now to track the route of this cultural inheritance. There are many reasons for people from urban locations to travel into folk worlds; mine was such a personal one.
I got my first research and documentation grant from India Foundation for the Arts in Bangalore in 2004, to travel and record songs of love, loss and longing from the folk music of Bengal. It started with looking for songs I had heard, places and people I already knew or knew about. From there to the unknown and unheard, following songlines etched on the surface of an unfurling map of Bengal; then returning and re-returning to the same places and people, over and over again. The journey has been about seeking and meetings. Sukanta joined me at the early stages in 2004, first as the sound recordist of this project, but soon we became co-travellers on the same road, taking from the road lessons in ways of listening. It is through our listening that we began to form ideas about the land through which we were travelling. Our trail would take us beyond marked boundaries of 'Bengal' while within 'Bengal' we would hear distinctive voices singing in languages and coming from cultures that were not quite 'Bengali'. What then made up the land through which we travelled, what was its music made of, we asked ourselves.
The 'method' that was not obviously present in our work in the beginning gradually began to take shape and we realized we needed tools to study this music and the lives of the people who made the music. We began to recognise music and sound as knowledge, heard voices and instruments, melodies and styles as soundmarks of places. Music became a sign, guiding us through the history of a land. This journey is about all those discoveries that we have been slowly making. And as we take our listeners through our songs from the road, we implore you to stop first and listen. This music has been traditionally heard and revelled in, it has created moments of ecstasy even when describing intense pain and longing. The Bengali word for such ecstasy is ananda and it is important to take part in this ananda of listening and share it with as many people as possible.
From my first visit to Nimai Chand Baul's house in Suripara, Bolpur, Birbhum in November 2003 to our trip to Gour Khepa's house, also in Bolpur at the end of November 2009, the years have gone by and our story has become increasingly complex. When I think of the music we have been hearing in this fragmented land of Bengal with its continuous history of migrations–old songs and songs in the making, lost songs and songs re-born, all layered one upon another, tangled up in intricate patterns, then I do not know what to think about the future of this music. The music comes from a time long before our own and will go beyond us, it has seen and will see many births and deaths.. In contrast, we have been, and can be, on the road for a few years only. So for now all we can do is listen, record, share, even join in the song. Let The Travelling Archive be a shared space of the singer and the listener, our own mela and parab, a festival of music.