Sound Expeditions : Recording Tarak Das Baul in Kenduli
The 'Infectious Persona' of Tarak Das Baul
The way Sound Expeditions (http://soundexpeditions.com) saw and heard him
Tarak Das Baul, also known as Tarak Khyapa, passed away in the morning on 10 October 2017. He was 56.
We first heard Tarak Das Baul at our Baul Fakir Utsav, perhaps in the third year? Him and Lakshman Das Baul. Both came from Joydeb Kenduli, but brought very different sounds and temperaments to the festival. Lakshman Das was gentle, sweet, even-tempered and bhodro. Tarak Das Baul was as much sound as sight, and he seemed come to wildly conquer the stage. Both Lakshman Das' 'Gour kalpabriksha moole' song and Tarak Das' 'Murho mon' song have remained imprinted in my head all these years. Satyaki Banerjee, a beautiful musician and an organiser of the festival, much younger then, was so impacted by Tarakda's style of the dotara that slowly Tarak Das Baul came to rest on his deft fingers, along with others, as he formed his own style of playing and singing (https://www.youtube.com/watch?v=H0ELT4tXIac).
Amit Roy, another organiser of the festival, had made a film on the festival in its fifth year, and in it you catch a glimpse of Tarakda, playing with Bishwanath Das Baul, of the generation before Tarak Das and Lakshman Das Baul. The film catches moments of the festival when it was at its finest—more organised than the first years, but still fresh and full of promise. That festival, and many who came to it, including many who are seen in Amit's film, are no more. Many who are still around are not as they were. With Tarakda's passing, we know that a time in the sound of a music has come to an end.
Watch the film here.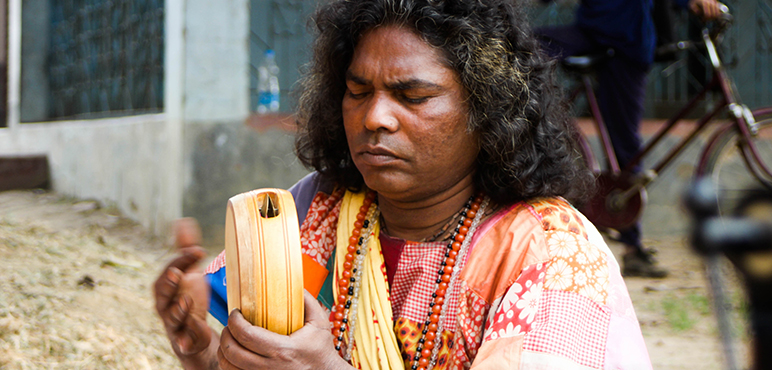 Tarak Das playing his dubki. Photo: Aparna Subramanian
I wrote a post on Facebook after Tarakda's death and had a message from Aparna Subramanian, of Sound Expeditions (http://soundexpeditions.com), a group of fellow field recordists, in which she recounted a trip they had made to Joydeb Kenduli in 2013 and had recorded him. We were connected in a way with that trip, as their contact person in Kolkata, Arpita Chatterjee of ITC-SRA, had asked us for suggestions about whom they could record in West Bengal, for baulgaan, and Sukanta had suggested Tarakda's name.
———————————————-
Sukanta's note, as an aside:
Some friends had formed a group called "Boyan", I think back in 2009. Tarak da, Lakshman, Radheshyam da and some other musician friends were part of that group. Uttam da, a musician and Mukul da, an enthusiast of folk music, were the two main members of the group, who had been insisting that I make some recording of Boyan. So I agreed. Though I was not very keen to do the recording in a sound studio in Kolkata, I ended up doing so because my friends thought it would be easier to bring the musicians over to the city than us going to the village. I was not very happy with the result of that recording session, neither were my friends. So next year, we went to Nitai da's house near Suri in Birbhum. Nitai da had built a nice round-shaped thatched mud-house just outside his village to peacefully practice his own music and he called the house his "Ashram".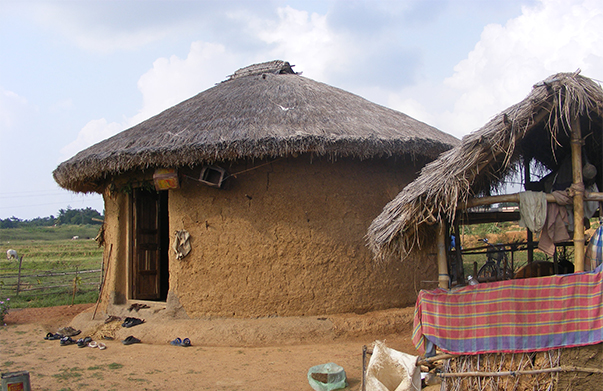 Nitai da's round mud-house
That was beginning of March 2011; winter was almost gone. I hired six Shure SM 58 mics and took my desktop computer and sound card, an M-audio Delta 1010, with me. Ayan, a sound recordist friend and my junior from SRFTI, joined me on this trip. Mukul da hired an old white Ambassador for us, because it would be rather cumbersome to carry my heavy desktop computer and all the other stuff on the train.
We hired a computer monitor from Suri.
When we reached Nitai da's village after a long slow journey, his ashram was already full of musicians and they were getting into the mood by smoking weed. Someone 'hooked' an electric wire on the nearest electric pole and ran the cable all the way to the mud-house to power up our recording system! I decided to set up my workstation outside the house. So I placed six mics inside the room and ran all the cables through the small window, to my computer.
We started recording. Everyone was in the mood for a picnic. Nitai da's bhaktas were cooking khichuri as Tarak da started singing with high energy. When I check my log now, I see Tarak da was in such a mood that day! He sang seven songs non-stop right at the beginning! And that energy set the mood for the whole session. Everyone sang with a lot of enthusiasm and we ended up recording fifty-one songs in that session!
When I think of Tarak da, this is something which comes in my mind first—his energy, which he emitted in all his performances. He was a robust man with a strong voice and a performer with a delicate hand on the dotara.
I have recorded him many times in different settings—on stage, in the recording studio, for documentary films, in informal gatherings. He always stood out with his trademark dotara playing and energetic singing.
I remember him saying to a musician friend of mine: "Bhagabanke keu dekhechhe? Osob Krishna banshi-phanshi bajay na, kadam tolao nai! Kintu amaderke chalanor jonye ekta shakti achhe, ingrijite naki babu take bole absolute power…"
(Has anyone seen God? There is no Krishna playing any flute or anything, nor any Kadam tree either! But there is some kind of a power to lead us. What they call absolute power in English!)
Tarak da was surely a blessed musician; he had been blessed by "what they call absolute power in English"!
Here are two songs from the session in the mud-house. Nitai Das (Barun) was playing the khol, Tarak da himself played the dotrara and Lakshman Das was probably also playing along. Or maybe it was Uttam Das. Moloy Bhattacharya was the violinist (the violin is called the behala or byala in Bangla) and there was also a bamboo flute or banshi, played by Tarun Chowdhury. Raju Das was playing the mandira. Also present were Shyamsundar Das Baul and Shanti Babaji and Baridbaran Das Baul, and of them must have played the khamak and another the ektara.
Deho dibyarathe hyaro Jagannathe by Tarak Da
Prem bajare premer manush dekhibar tore by Tarak da
————————————–
Returning to the story of Sound Expeditions and Tarak Das Baul, since his passing, Aparna and I have been talking about keeping their recordings from their 2013 trip on this website, to share with a wider audience.
Sound Expeditions, previously called the GE-OS Project, is led by Greg Simmons, a writer, educator, traveller and sound recordist with over 30 years of professional audio teaching experience. Greg combines his writing, teaching and recording skills with his passion for travelling, and spends most of his spare time on location, recording the music and sounds of Asia and the Himalayas. Since 2005 he has taken over 40 audio students on educational recording expeditions through Nepal, Tibet, India and Thailand.
Aparna is an alumnus of Film and Television Institute of India in sound recording. She also holds a master's degree from the Department of Media and Communication Studies, Pune University, having first graduated in Electronics from Fergusson College. Her work experience is a blended mix of various roles, including training with institutions in community and audiovisual archive projects; sound recording expeditions across India; IT and technical support roles in MNCs, as well as startups. She was one of the location sound recordists for RV Ramani's documentary Santhal Mill to Family Re-Call, which won the Silver Conch at Mumbai International Film Festival in Feb 2018.
In January 2013, when Sound Expeditions visited Joydeb, some of their key members were with them: George Makras, Dil Gurung, Aparna Subramanian, Jesse Betteley, Joe Finnerty, Tristan Forbes, Damien Boog and Steve Ward.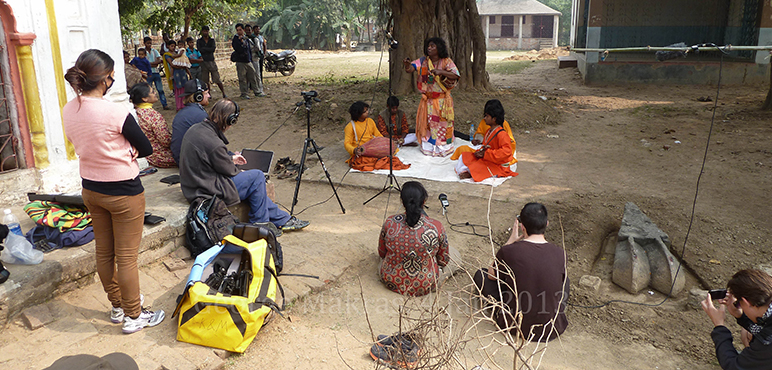 Sound Expeditions at Kenduli. Photo: George Makras
As Greg remembers the trip:
Such a great and fond memory of that session, and it's one I have looked back on many times as I re-define what I'm doing. It's the main example I use for going back to a simple direct-to-stereo approach in future, and staying away from studios and cities and doing many more recordings such as that one. That's the stuff I really love… We also remember the banquet his family had prepared for us in that little hut, and how awkward it was because we didn't have the time to eat it and so on… That whole day, and my enjoyment of it, is typified in one photo clicked by Aparna, where Tarak Das is standing in front of me with a big cheesy grin on his face, and I think Arpita is in the background. He is listening to a playback of the recording, it's one of my all-time favourite pics.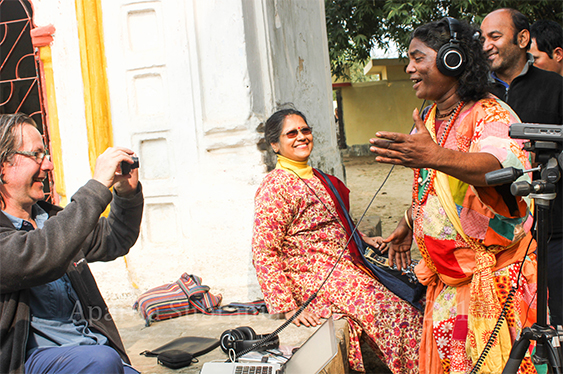 Photo: Aparna Subramanian
Aparna's note:
The first time I heard this music was the album 'Real Sugar' by Paban Das Baul and Sam Mills in early 2006 (https://realworldrecords.com/release/98/real-sugar/). Most songs had a message related to humanity. In 2012, while I worked at ARCE Gurgaon (https://www.indiastudies.org/ethnomusicology/), I had the chance to log videos of the collection 'The Traveling Archive'. When I reached Kolkata, I had no idea what the plan was. Arpita Chatterjee was our facilitator on this trip. But when revealed, I was excited about seeing a Baul musician perform live! Tarak Das can be termed as an infectious persona. We had a train travel from Howrah to Bolpur, and took taxis further to the village. It was a day or two before Poush Mela in 2013. Words fail to describe the enjoyment we had that day, and he also took us to the Radha-Binod temple. Post-lunch, our day had some (mis)adventures of reaching our hotel and Howrah station and we were fortunate not to miss our train to Jodhpur. That's another episode altogether.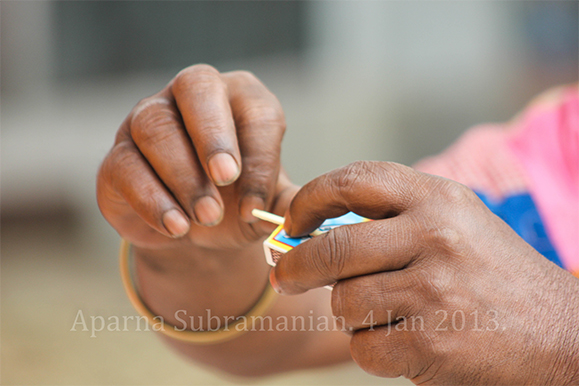 Tarak Das had a trick of playing a beat on a matchbox. Photo: Aparna Subramanian
Tristan Forbes, another Sound Expeditions recordist, adds:
There was a lot of great energy flying around that day; it almost didn't get captured! We were always finding a different option and another way to record a song but the whole time was supported with positive thoughts and on such a lovely day too.
I personally like the photo in which Arpita is in the background and Greg and I are listening. So tired, but so content!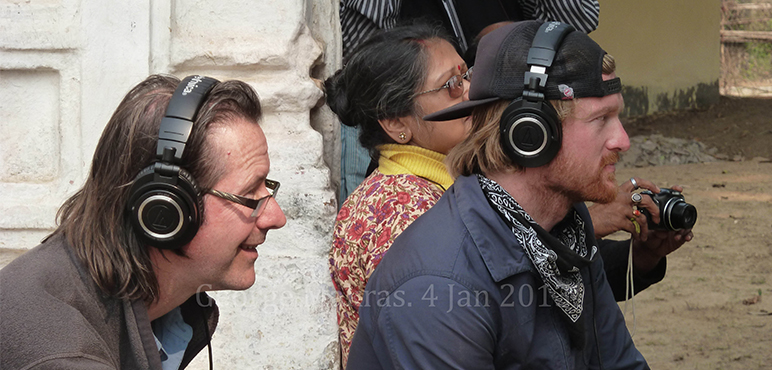 Photo: George Makras
Written by Moushumi, June 2018.
Some audio and video recordings from the Sound Expeditions trip
Bhab-sagore bhaber manush by Tarak Das Baul
Apni sohoj na hoile by Tarak Das Baul
Tarak Das singing
Tarak Das' elder son, Sadhu, sings. The younger, Kangal, is playing the khol.