Uttar Shobharampur, Faridpur, Bangladesh. 22 January 2006. Ibrahim Boyati
Listen to a song from this session
Ibrahim Boyati is someone I knew from before the start of this project. I had first met him in Bangladesh in 1998, on the sets of Tareque Masud's documentary Muktir Kotha, a film in which he was playing himself at a performance. Between Muktir Kotha and Tareque's later film Matir Moyna (2001), two projects in which we were both involved, Ibrahim Boyati's dotara and voice got firmly etched on my mind and when Sukanta and I started our own journey, I knew that we would have to go to his home in Faridpur for his riches. Our subsequent meetings with Ibrahim Boyati have indeed enriched us and our work.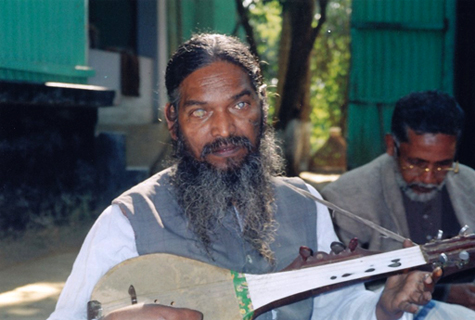 Ibrahim Boati
Ibrahimbhai is blind. His voice is hoarse and extremely powerful; even when he speaks, you cannot but stop and listen. He was a 'canvasser' once, that is how he describes himself; sold herbal oils and medicines by the roadside, announcing his wares and breaking into song from time to time to attract buyers. Now he deals in stories—preaching to his audience and, again, breaking into songs to make a point. This we saw during the several recording sessions we had with him: at his home in Bhashan Char in Faridpur when he talked about his life and struggles in the 1971 War years; at Membar Gotti, a village of Faridpur, where Ibrahim was conducting milaad, leading the community through prayer and song in the dark of the night; at the home of the trader-cum-singer Sadek Ali in Uttar Shobharampur by the Kumar river, when he sang bichchhed gaan of Bijoy Sarkar, songs of Lalon, and the kahini or long narrative song of Waz Kuruni (or Owais/ Awais Qarni as he is known in other parts of the Islamic world). Our audio extract is from the kahini that he sang.
This was a day of music which started in the morning. A small group of musicians—Harun, Rafiq, Nuru Pagla and Ibrahim– had gathered in the courtyard of Sadek Ali's house and each took his turn to sing. Ibrahimbhai sang the kahini towards the end of that session, late in the afternoon between the Asr and Maghrib prayers. It is a 40-minute long song, which Ibrahim sings playing on his dotara, while the other musicians play harmonium and tabla and sing the parts of the chorus.
As the story goes, Waz Kuruni was a devotee of Mohammad who lived around the same time as the Prophet, in a town called Karn in Yemen. The Prophet had never met the man, but knew of his deep devotion and love for him and so, at the time of his death, he had asked his two trusted disciples, Ali and Omar, to go and find the man and give him his robe, in acknowledgement of his love.
The story as narrated by Ibrahim Boyati is an elaborate one, with a main plot and several sub-plots, stories within stories , all to do with aspects of Waz Kuruni's life and, perhaps, some other stories about other people not connected with Waz Kuruni's life also get woven into the tale. The form of this music is fluid, there is no fixed text and it evolves with each individual performer and each particular performance. The style is part recitative, and part of it is sung. As the storytelling progresses, the audience gets drawn into the narration, becoming part of the chorus and part of the story itself. Yemen or Mecca are no longer faraway places, Awais Qarni is their very own 'Wajja', whose story they love to sing and hear over and over again.
Written in 2010.