Tarapith, Birbhum. 14 October 2004. Kanai Das Baul
Listen to a song from this session
This was my second field trip with Sukanta. The first one had also been to the temple town of Tarapith for the songs of the blind singer, Kanai Das Baul, but the session had got washed by rain, so we had decided to return the following week.
My familiarity with the music of Kanai Das Baul or Kanai Baba, as many call him, went back several years; he had sung in Anup Singh's docu-fictional essay on Ritwik Ghatak, Ekti Nodir Naam  (The Name of a River) and I had seen him during that recording session. The blind Kanai Baba was also the subject of Ranjan Palit's film Abak Jaye Here, besides being one of the main singers in Georges Luneau's landmark film on the bauls, Le Chant des Fous.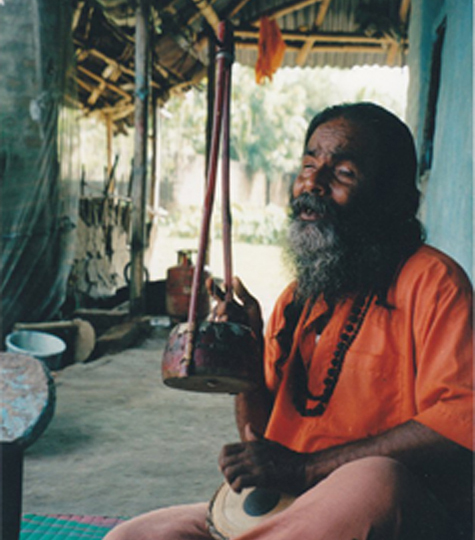 Kanai Das Baul
Tarapith, where Kanai lives, is famous for its temple of Tara Ma, situated on the bank of the Dwaraka river, next to the smashan or crematoria which itself has traditionally been a site of spiritual Tantric practices. Kanai spends most of his time in this temple, in the company of sadhus, singers and pilgrims. We had heard his stories before, how as a little blind boy he would stand in neck-deep water and sing away and how an older cousin had once said to him, 'You know what? Music might be your salvation.' Kanai's journey has been a long and difficult one, through poverty and blindness, but it is music that has always saved him.
Early on in his life Kanai had started to pick songs from the road. His training as a singer has been through encounters at railway stations and melas, temples and shrines—that, in fact, is the common story for many bauls and fokirs. Then it was this temple of Tarapith that gave him his base. This might be the reason why he is so at home when he sings songs of devotion to Ma Kali (Kali and Tara are often interchangeable in these songs), and why his other songs such as baul and kirtan too are touched by the same bhab or mood. This here is a clip from a Ramprasadi song, about diving—in the name of Kali—deep into the recesses of the heart, seeking its unending riches. He sings, accompanying himself on the ektara and dugi, which are his favoured instruments.
Our recording session lasted about two hours and other than Ramprasadi, Kanai Das sang baul, fokiri, bichchhed and kirtan. Sukanta recorded the session on our new Sony MD Walkman MZ-NH700 with a Sony Electret Condenser Stereo Microphone ECM-MS957. Now we could do some justice to the quality of the songs and I no longer had to record like a novice; but for Sukanta too this was to be the beginning of a long learning process.
Written in 2010.
Related Link: