Sylhet, Bangladesh. 26 December 2004. Abdul Hamid
Listen to a song from this session
This was my first trip to Sylhet, escorted by Shah Alom Boyati. Boyatibhai took me to the shrine of Hazrat Shah Jalal, where we met Abdul Hamid 'Jalali'. Then we went to Hamidbhai's house in Sylhet town. Abdul Hamid, originally from Bogura in the north of Bangladesh, is a singer-composer of murshidi, bichchhed and Bangla qawwali and his life revolves around the shrine of Shah Jalal. His wife, Milon, is also a composer and his adopted son Wasim plays the dotara; he is a radio artist. Hamidbhai mainly sang his own compositions as well as compositions of old folk poets of Sylhet, Shah Abdul Korim and Durbin Shah. He was joined in the music by his family and disciples.Some of Hamid's compositions deal with contemporary political events, which is an interesting feature of his work. Then his wife and daughters sang wedding songs. There was a festive spirit about that evening and Milon said later, this has been our own New Year eve party (even though there were four days to go). Sukanta's absence certainly impacted the quality of the recording on our MD recorder. I have visited Hamidbhai on each subsequent visit to Sylhet and Sukanta has taken care of all later sessions.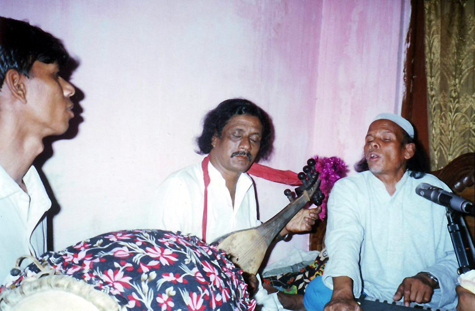 Abdul Hamid & Others
In these past six years Hamidbhai and his family have been struck by many tragedies. His teenage daughter, who was one of the wedding song singers during this session, died during an uncomplicated appendix operation in 2008. Hamidbhai himself has had a stroke and the last time I met him in 2009, his speech was slurred. This time it was he who had come to listen to me because I was performing at a concert in Sylhet. He came back stage at the end of the show. This once extremely powerful singer looked so broken that it was hard to stand before him.
Written in 2010.