Sylhet, Bangladesh. 22 April 2006. Chandrabati Roy Barman and Sushoma Das
Listen to a song from this session
Chandrabati Roy Barman and Sushoma Das were both born and brought up in the natural environment of song and rituals in villages in the Sunamganj area of Sylhet in eastern Bangladesh, a region known for its music and mystic poets. This was the time before Partition in 1947, for both women are now above 80. We can only imagine their childhood world, but can't ever return to it, such as the folk poet of Dhirai, also in Sunamganj, Shah Abdul Korim, wrote in his song of nostalgia and regret, Aage ki sundar din kataitam, how beautiful were those days! That was a song about songs –we had so much music then, Korim Shah wrote; baulagan, ghatugan, gajir gan, sarigan, jatragan—he draws up a list. Korim Shah died at 93 in 2009 and the time he is talking about largely overlaps with Chandrabati and Sushoma's time.
That was a time of plurality of faiths in society, mainly Hindu and Muslim, and of multiple cultural expressions. Then 1947, and later 1971, the year of the Liberation War of Bangladesh, saw large exoduses of people on the basis of faith and homogenisations of communal life all across Bengal. But Korim Shah was writing about the earlier time, when, for example, Hindu barinto jatragan hoito, nimontron dito amra jaitam (there would be jatragan in Hindu households and they would invite us and we—meaning, people of the other community—would go). It was a time of the cohabitation of communities, unequal and segregated for sure, but despite the repression, suppression and mutual mistrust, it was still a time of many voices. Korim Shah, Chandrabati, Sushoma—they all come out of that time.
Sushoma Das' parents were singer-songwriters. What did they sing? I had asked her. And she drew up much the same list as Korim Shah's, with stronger emphasis on women's ritual songs and kirtan, as would be common in Hindu households. Her mother, Dibyamoyee, sang gopini kirtan and dhamail—songs of the women's inner quarters. Her father Rasik Lal was a man of the outside world, he commanded a lot of respect in society, people called him 'Talukdar', she said. He led teams of kirtanyas; sang ghatugan too. Sushoma Das was therefore birthed into a world of music. Her younger brother Ramkanai Das later became a singer of Hindustani classical music and he travels abroad and teaches expatriates in the US, while recording classical and folk music at home. Sushoma mashima had never travelled out, however. She was married while still in school and then raised a large family, but kept up her music. When she came to Sylhet town much later in life, she sang for the radio. How did you manage to keep the music alive? I asked. She had great strength of will, Chandrabati Roy Barman answered on her behalf.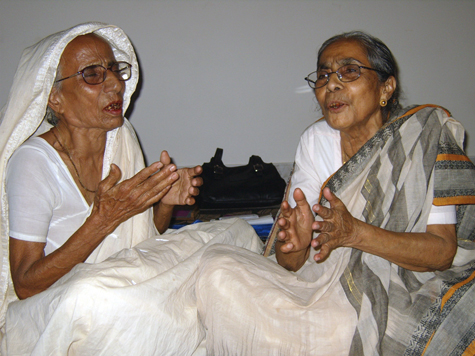 Sushoma Das & Chandrabati Roy Barman
This was our first meeting with the two women together in Chandrabati Roy Barman's house in Topkhana, Sylhet town. The previous evening we had met Chandrabati Roy Barman and she had so charmed us that we wanted to meet her again, with this other singer she told us about, two years older than her and a 'storehouse of songs', according to Chandrabati mashima. About her own self she had said, I have an indomitable spirit. This she said in answer to most questions—how did you learn to sing, how was it after marriage at 13, how did you take your high school exam with your daughter, how did you balance home, children, husband and your music? She answered all these questions with a laugh and with her signature 'Amar utshaho khub beshi.' In other words, no one can stop me.
Despite being of almost the same age, imbibing the same oral culture and having had similar struggles as women, Sushoma Das and Chandrabati Roy Barman are also very different as individual artists and their different personalities come out in their styles of singing and approach to the song, even when they are singing the same song as a duet, such as the one extracted here. It is a song from the 'kalanka-bhanjan' cycle of gopini kirtan, about how Krishna helped Radha prove that she was not adulterous, rather the most faithful of all women. That is the main plot, but this particular song is also about Krishna's mother's fears for her sick child, brimming with batsalya ras/vatsalya rasa or emotions of parenting. Interestingly, on the day of this recording, Sushoma Das was extremely anxious and restless for her grandchild in hospital, mirroring Nandarani's anxiety, and after a few songs, she just could not stay anymore; she got up and left.
Through quite a few years of knowing the two singers, we understand now that Sushoma Das is strong and firm and more fixed on text and the melodic structure, almost pedagogic in approach; she does not have much patience for deviations. Chandrabati Roy Barman, on the other hand, explores more her artistic freedom within the form. 'I would climb trees as a child, swim across the Surma; I was the only daughter in the family after many generations of sons, so I had a special place at home,' she said. Her grandmother Rajweswari was a fine singer. She learned some songs from her, and then just by listening to people. As she put it: Amar utshaho khub beshi! She was propelled by her great enthusiasm for music, for life in general, and of course her enormous talent. Her son, Rana, an erstwhile theatre director, said about her (with obvious admiration and pride), 'Ma has to be forcibly stopped at weddings where there are groups of women singing and dancing the dhamail. She does not realise that she can't do so much anymore.'
On a personal level, we feel blessed to have recorded Chandrabati Roy Barman and Sushoma Das at this point of their lives, when their knowledge is at the fullest and their memory and voices are still intact. At the same time, I feel that it is highly significant that Chandrabati Roy Barman and Sushoma Das came to Kolkata and participated in the annual Baul Fakir Utsav, in 2010 and 2011, respectively. They brought with them an-other voice, adding more dimensions of time and space to the somewhat homogenous, though intoxicating, sound of the baul and fakiri songs which dominate the scape of the festival. Chandrabati Roy Barman and Sushoma Das are part of an orality which might still be possible in the east of Bengal but from which the west is surely divorced. Besides, even in their own region things are changing and will continue to change. From Rajweswari to Chandrabati, from Dibyamoyee to Sushoma, the flow of song was natural. It can no longer be the same as our sonic and visual worlds are constantly altered in an increasingly materialist world; even from Sushoma to her daughter Bashona, the flow is bound to be interrupted.
Written in 2011.