Sylhet, Bangladesh. 21 April 2006. Arkum Shah Mazar
Listen to a song from this session
This recording session in Sylhet town took place in the shrine of Arkum Shah, a twentieth century folk poet who wrote mystical poetry in the Sufi and Bhakti traditions. His devotees gather in his shrine each Thursday for music and once a year to hold the poet's Urs or anniversary, with songs and prayer.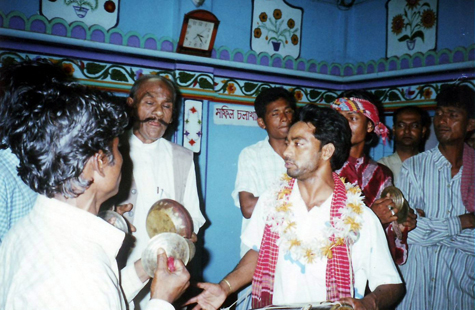 Arkum Shah Mazar
This recording conveys the ambience of the shrine, where the act of singing becomes an act of worship. Singing and dancing together is a way of sharing faith, uttering words that everyone in the gathering knows, also sharing gestures. There are no listeners of this music, everyone is a participant. Smoke from the incense sticks fill the space of the room as the devotees go round and round the tomb of the mystic poet, cymbals come clashing on the chorus of voices, drums roll and the words become more and more indistinct. It is just a soundscape, played out at night by a group of devotees, when the rest of the town has fallen asleep.
Later one of the main keepers of the shrine, the khadem, gave us a copy of a book of Arkum Shah's songs, bound in red velvet. I strained my ears to get the words of the songs and once I got the first line, I looked up the song in this book. They are mostly songs about biraho as a way of devotion.
Written in 2010.