Sylhet, Bangladesh. 20-21 April 2006. Ruhi Thakur and others
Listen to a song from this session
Ruhitaswar Chakraborty, popularly known as Ruhi Thakur, a man who left such an indelible mark on us with his songs. Perhaps because he would be gone within a year of this recording? At the time of his death from cancer Ruhida was hardly in his mid-50s.
A day before this recording session we had seen him for the first time, at a meeting of bauls in Sylhet town (interestingly, baul here does not suggest any particular esoteric practice such as in Kenduli or Kushtia. But baul means those who sing mystical poetry; devotional songs, Sufi or Bhakti or both. Those who take on this singing as a way of life and also sing for a living). This was a time of political unrest and increasing fundamentalist pressures in Bangladesh and people in the practice of such music—the bauls and boyatis (these labels are also often interchangeable)—were under threat of being silenced. Ruhi Thakur, Chandan Miah, Birohi Kala Miah, Abdul Hamid and others were thus meeting to discuss how they could fight the system and continue to sing.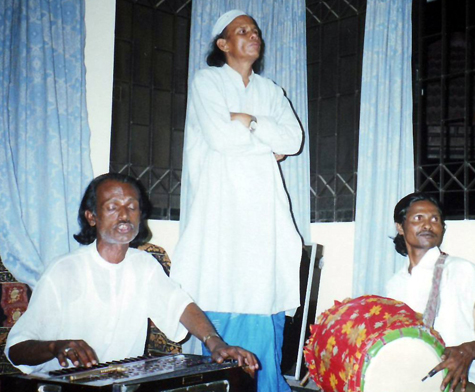 Ruhi Thakur & Others
Ruhi Thakur was dressed in an embroidered synthetic kurta with a shine, hair up to his neck oiled and neatly combed and from his look it was difficult to guess what sort of a singer he might be. After the meeting we all went to Abdul Hamid's house where I had been once two years ago and this was a second round of recording there. When Ruhi Thakur started to sing, we were speechless. Sukanta just looked at me and I looked back at him. In his gentle voice, he sang the 19th century mystic poet Radharaman's bichchhed or song of separation: Shyam kaliya shona bondhu re, ami nirole tumare pailam na.
Our second session with him was in the house of our friend and guide in Sylhet, Ambarish Dutta. Ambarishda was throwing a party in his house (as he has so generously done many times in these past years) and many of the finest singers of Sylhet—people we were looking to record—were present. Ruhi Thakur, Chandrabati Barman, Chandan Miah and Rehana—all highly accomplished singers–took turns to sing. There was an audience of mainly middle class professionals but everyone was completely engrossed in the music. Amare keu chhuiyo na go sajani is a hugely popular composition of the recently departed folk poet of Sylhet, Shah Abdul Korim (who was still alive then at 92) and we can hear in this recording the shared pleasure of the singer and listener in a song. We can hear people dancing in joy, clapping and singing; the living room of a banker's apartment transformed into the space of a mela.
The other song selected here conveys the same kind of pleasure. Four years later, in 2010, Ruhi Thakur's brother, Ranesh Thakur, sang this song at our own Baul Fakir Utsav in Shaktigarh, Kolkata, when a team of musicians from Sylhet came to take part in the festival. The video recording of that session once again shows the power of this composition to communicate the joy in living and singing to the community.
Written in 2010.