Shaspur, Birbhum. 8 January 2005. Golam Shah and sons Salam and Jamir
Listen to a song from this session
This video was shot by Sudheer Palsane and the audio recording was made by Sukanta at the home of Golam Shah, a fakir from Shaspur in Birbhum. Golam Shah was a little over 60 years, but he looked much older, more so because he had not been keeping well. He had been hospitalised a few times in the recent past, it was probably a heart condition, I don't really know. Besides, I think that age comes differently to people in different circumstances. When Sukanta and I had gone to his home with Debdas Baul a month before, and when he took out his violin and tried to tune the old strings and they kept breaking, I did have a feeling that we were running out of time.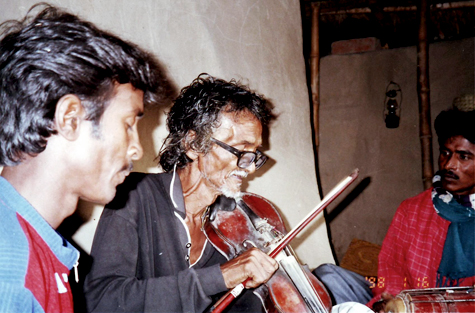 Golam Shah with his sons
Some years ago I had read an autobiographical note by Golam Shah, published in a collection of essays and conversations with bauls and fakirs and scholars of this music. In it Golam Shah had talked about his life as a singer of fakiri songs, about learning to sing from his master Muhammad Shah and about travelling with songs. What had struck me then as it struck me again now was that Golam Shah seemed to have no complaints at all—not against the stark poverty that surrounded him, or against their marginalisation as singers of baul and fakiri songs in an environment of increasing religious fundamentalism and intolerance.
This is one session that touched us very deeply, for the way everything unravelled on that day. The excitement with which Golam Shah fixed new strings on his violin; the way he said to his sons Salam and Jamir that they should give us their best and the way his sons had actually dressed in their best for the occasion; the way Golam Shah began a song and how, when his voice or memory started to fail, Salam gently gave him support, never surpassing him though; the way Golam Shah  posed for photographs with his family saying, 'Take what you like, this is your last chance.'  A big crowd had gathered in his house that day.  Here was a man little known to the outside world, yet special in his own place, who commanded deep love and respect of his family and friends for the life of songs and words of comfort he had given to them.
Golam Shah passed away four months after this recording session.
Written in 2010.