Shambhunath's tea shop, Faridpur, Bangladesh. 15 February 2012. Laila and Habib
Listen to a song from this session
This trip to Barishal and Faridpur was mainly to help some friends who have been trying to make a film on the poet Jibanananda Das. They had never been to Bangladesh before and we were their obvious choice as guides. Moreover, Sukanta has been the sound recordist of this unfinished project. We went on the old paddle steamer from Morelganj to Barishal. Then, on our way back, we wanted to introduce our friends to Faridpur.
The place never fails to surprise us. This time too was no exception. When we had gone a few months ago in October 2011, as we were entering Shambhunath's tea shop, a man got up from his seat and excitedly said, Hello Moushumi Bhowmik, do you remember me? Remember, Banikanta's village? সেই যে গোসাঁই দাস? I remembered well and clear: the man who in 2006 had wanted to renounce the world. His photograph is on our Contact Us page, standing with Sanjay and Sayeed in front of a mobile recharge shop where we were waiting to catch a bus to take us to Baotipara. Where he had come from I don't know. ভাব জমালো সঞ্জয় আর সাঈদের সঙ্গে। বললো, বিষয় আশয় সব নাকি ত্যাগ করে দেবে, শ্মশানঘাটে ঘুমোচ্ছে ইদানিং। এই শুনে সঞ্জয় আর সাঈদ বলেছিল, ঘরবাড়ি দেবার লোক না পেলে আমাদের বলবেন!
So here he was again, re-entering our lives and soon we would realize how significant this reappearance was. No, he did not seem to have abandoned all riches, given away all possessions, or to be sleeping in the crematorium like he wanted to do when we had first encountered him. He was chatting with his lawyer colleagues in the shop next to Shambhunath's.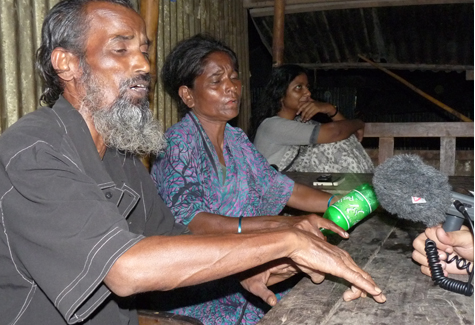 Habib and Laila singing at Shambhunath's tea shop, Faridpur.
That day in October 2011, Habib the singer had arrived and the session with tea and music had begun. Habib sang one of his usual songs—Khul re mon tor del er kopaat—and we said, will you sing something new this time? He said, I am learning one or two new ones. There was nothing new about this answer either, because each time he says the same thing and then sings the same song. But his song always sounds so good! Of course, some days he is more immersed, and some days more distracted, depending on his circumstances.
On this October evening, while Habib was singing, our friend who was wishing to renounce the material world six years ago, got up and said, 'Let me go and fetch Laila. I know where she is.' We didn't know Laila, but everyone in the tea shop got talking about her; they said that she was kind of a vagabond who often crosses the border and roves about in India, then comes back as unpredictably as she had disappeared. She is a great singer, they said. People call her Laili Pagli—Laili, the mad one. Then Laila arrived and she entranced us with her songs and stories.
Five months later we had gathered once more at Shambhunath's. Our friends from Kolkata were with us: Indranil sen. Pratyush Banerjee, Tamonash Bhattacharya. Pratyush had a camera. Habib was singing and Pratyush was shooting the session. Suddenly Laila appeared! She said she had had a feeling we would come and sure enough we were there!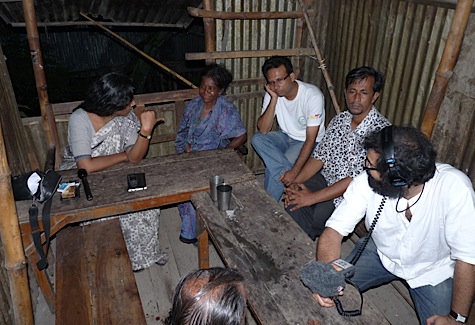 From Left: Moushumi, Laila, Sanjay, "The Renouncer" and Sukanta
This short film is edited from the recording session of that evening. Sukanta mixed his sound with Pratyush's footage. Laili or Laila sang and talked non-stop. She is very versatile and sings many forms of songs. Here she is singing a Bangla qawwali, in praise of the 'Boro Pir' Abdul Qadir Jilani. The tune is typically north/northwest Indian and is an example of the continuing migration of music within the subcontinent. The stories too came into Bengal from other geographies. There are shrines of many local saints across Bengal, who belong to some bigger Sufi order such as the Qadiriya or Chishtia. In Faridpur there is the shrine of Duddu Shah (not to be confused with the Duddu Shah of Lalon Fokir's lineage) , to whom Laila has pledged obeisance. She is his murid. Many of the songs she sings, such as this one, are in praise of Duddu Shah, but through him, the devotee is singing praises of Abdul Qadir Jilani, also referred to as Ghaus-E-Pak or Ghaus-E-Azam. This song, Salam lao he o Boro Pir is a composition of a local poet, Makhon, who was also Duddu Shah's murid. At the end of the song, when asked who the song is by, Laila says, 'Makhon. He was a great man.' Then she adds, 'There was such a man here. Kind of Hindu. হিন্দু মতো । '
This 'kind of' also applies to Laila in many ways; there is much ambiguity in and around her. She has no fixed home; was a Hindu who converted to Islam for marriage, but straddles between Sufi and Hindu shrines. She crosses the border on her own terms without any papers, goes to faraway places such as Delhi and Ajmer, rides trains with no ticket, sings wherever she goes and in whatever she thinks the local language is (she has a great gift for picking up dialects and accents), even makes up songs in different languages. Then at one point she turns back and decides to return to Faridpur. The journey home is filled with as much uncertainty as the going out was. What does her family–her husband or her grown-up children; Laila even has grandchildren —think of all this? Her answers are vague and after you ask them, you realize that so far Laila is concerned, such questions are inconsequential.
That Laila is supremely talented and confident is clear from the way she is singing here. We can also see that she is bossy; she snubs Habib and refuses to give him room in the song. At first he tries to join in, but he is Laila's opposite–he cannot be aggressive. So he leaves the stage to her. Laila and Habib are both essentially artists; talented and temperamental, both recognized for their madness. Such madness is indeed a rare gift and a blessing.
Written in 2014.