Saptiguri, North Bengal. 27 November 2003. Nirmala Roy
Listen to a song from this session
Back in 1993 a Kolkata-based 'institution of folk culture' called Bhromora had brought out a set of eight audio tapes titled Shikorer Sandhane or 'In Search of Roots', with support from the Sangeet Natak Academy in New Delhi. It was an imaginatively produced collection of folk music from different parts of West Bengal and some places in bordering Assam . There was one tape in that set  dedicated to bhaoaiya, which is a form of music shared by the northern parts of West Bengal and neighbouring regions of Assam and Bangladesh. Another one was a collection of wedding songs or biyageet. Nirmala Roy was a prominent voice on those two tapes. All those years ago she had touched me with the emotional intensity of her songs of love, loneliness and longing, so I thought it best to enter this region through her voice.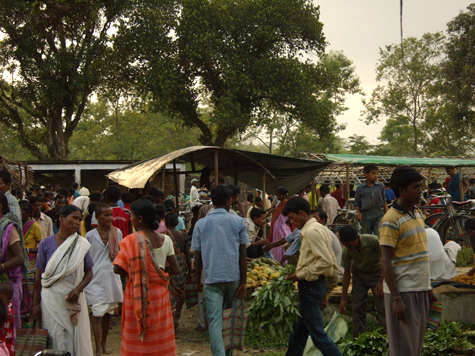 Local Market at Saptiguri
Bhaoaiya, the main folk form of this region, takes its name from the word bhab or moner bhab, and these songs are unrestrained expressions of emotions arising from everyday situations of ordinary life in a mainly agrarian society.
We found Nirmala in her ordinary domestic life in her home with her musician husband, Chand Kishore Roy, in Saptiguri village, near Sahabad tea estate, about 38 km west of Siliguri town. A two-roomed brick house with flower-printed curtains, neat bedspreads and framed pictures, their home had a sense of order about it. Chand Kishore has a shop in Saptiguri haat  (village market) and also a little plot where they grow tea and sell the unprocessed leaves to middlemen.
This session of over two hours was recorded by Sudheer Palsane on his Sony PD 150 camera. The song extracted is one about the woman waiting and longing for her man, the cart driver, who has gone away to work. She pleads to him to come back; come home O garial, I've kept the lamp burning for you. Nirmala sang in between making tea and tending to her evening chores. Her teenage daughter Tumpa sang too, and she seemed to have a timbre similar to that of her mother, which we have later found in many other female voices of the entire 'bhaoaiya region'.  A local dotara player accompanied them on his bhaoaiya dotara, while Nirmala's husband told us his story. It was in the 1970s that he had come to this Sahabad region from Rangpur in Bangladesh,  also a place of bhaoaiya. He is a music teacher and composer and can play many instruments, including the violin. 'I don't play anything very well, but I am the filler in the group,' he joked.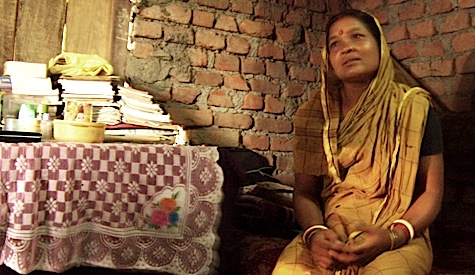 Nirmala Roy
This was a family of musicians. Nirmala seemed content with her life at home , but she also talked about the secret pleasures of performance.  The stage has a rahasya (mystery) of its own, she confessed, in reply to my question about whether she felt torn between home and the stage.