Santiniketan, Birbhum 27 Nov 2004 Debdas Baul, Nandarani
Listen to a song from this session
I had heard about the singer Debdas Baul's long association with researchers and filmmakers, especially Bhaskar Bhattacharya (who passed away in 2006), and I was told he understood the 'outsider's' needs very well. Rangan Momen had said: You must meet Debuda, he will know where to take you. During these last six years, Debdasda has been our best teacher in Birbhum, generously giving to us what we asked for, guiding us along the road.
For this recording session, our first with him, Debdas Baul came in the morning to our room in the university guest house in Santiniketan. 'We are thinking of songs within the baul repertoire of Birbhum where the sense of biraho is expressed,' I had told him the previous day. He came with two senior women singers, Nandarani and Dasi (Gitarani). The three of them—all probably in their early to mid-50s—took turns to sing, also accompanying each other, and the session lasted about two hours. Dasi sang with her ektara and Debdas Baul played the dugi. Nandarani, wrapped in a dark brown shawl, sat quietly listening.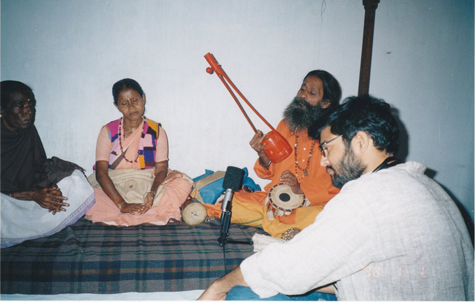 Sukanta recording Nandarani, Dasi & Debdas Baul
There was a stillness about Nandarani, in the way she sang, playing just the kartal. A private communion as if, with god. She sang several songs, mainly of bhakti or devotion in love. Amar Krishno naamer posha pakhi ure giyechhe. Krishno, my caged bird, has flown away. Perched on the branch of the tree, he calls out to Radha by her name.' She reminded me of Radharani, Purna Das Baul's sister, in Georges Luneau's film, singing 'Jodi eshe thako Hari, Niye namer tori,/ Amare niyo par koriya.' Old compositions which do not carry the signature of the composer. Nandarani had that same gesture of self-effacement.
If Nandarani is someone who tucks herself into a private corner, Debdas Baul lets the world into his own space. His home is in Suripara, Bolpur, but he is a man of the world. He has travelled widely and worked with people like Deben Bhattacharya and Georges Luneau, Andrei Jewell, Sam Mills and William Dalrymple, yet his everyday life revolves around Bolpur station, where he sits smoking ganja and talking with his friends who are regulars there. From the jhalmuriwallah to the ticket collector, to other bauls and the tea and coffee vendor. Then someone from the bigger city will alight from a train and introduce himself—someone like us, who needs to be guided into this world of music.
On this day Debdas Baul plucked on his ektara and sang texts of some of the older poets of Birbhum—Nilkantha Mukherjee, Satish Mukherjee, Jadubindu, Radhashyam Das, Fatik Gonsai—most of whom are mentioned in Upendranath Bhattacharya's authoritative work on the bauls of Bengal. Here is a clip from a composition by Fatik Gonsai. Debdas Baul's style of singing is stark, with almost no embellishment, as if for him it is more important to deliver the message in the song than sing to entertain.
Written in 2010.