Sadhushree, Shalla, Sylhet, Bangladesh. 13 March 2008. Birendranath Das and others
Listen to a song from this session
Shalla, a region in Sunamganj district of Sylhet, about 100 km south-west of Sylhet town. We went there by boat with Ambarish Dutta and some local friends and it took us the whole day to reach this village called Sadhusree under Shalla police station. The story of this recording session is long and complicated, but what we understood the next morning, having recorded the most wonderful music of the village people through the night, was that the people were finding it too hard to keep their lives going and hence the music was on the verge of fading away. The place remains waterlogged for nearly six months every year (it is what they call the haaor region; haaor having come from the Bengali word sagar or ocean, or sayar meaning lake). The people live in extreme poverty. There have also been political threats because this is a mostly Hindu village and if not threat, then there surely is a sense of insecurity. Hence, people who have found work elsewhere have preferred to leave, even move across the border to India or go further to more distant lands.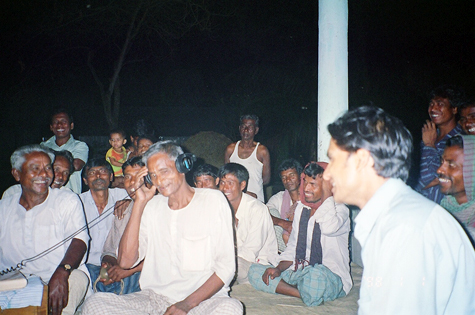 Checking out the recording
This music has never been recorded before–the forms hurigaan, probhaati, tin-nather gaan and so on, part of a tradition that has been handed down the generations. In fact, it is an extremely well-orchestrated and choreographed performance that we saw in Sadhusree, which was led by Birendranath Das and in which most male members of the community took part. It seems that during such music sessions, while the men come out and sing, the women hear the music from inside their homes and join in while carrying on with their chores, The whole recording session was so dynamic that we were missing the camera.
Our main contact in this village was Dharani Das, a young man whom Ambarishda knew through work. He is one of the gentlest musicians we have met so far and this gentleness is reflected in his style of singing. Here he sings a composition of Radharaman Dutta, the bhakti poet of Sylhet.
Written in 2011.