Krishnai, Goalpara, Assam. 30 August 2005. Rahima Kolita
Listen to a song from this session
Sudheer Palsane and I went to Rahima Kolita's house in Krishnai, Goalpara, in Assam on our way back from Cachar, also in Assam, in the monsoon of 2005. It was our last-but-one stop at the end of a long journey of about 15 days. We had a taken a bus from Guwahati early in the morning and got down at Krishnai, a small town, at about 10 a.m. We asked people for directions to Rahima and Madhab Kolita's house, and were shown the way. I had heard of them from Chandan Paul of Coochbehar. He said two things about Rahima. Firstly, it was music that had brought about this radical marriage of a Muslim woman with a Hindu man. Secondly, he said that since the death of the famous singer of Goalparia songs, Pratima Barua, in 2003, Rahima has been considered one of the best exponents of this music.
We talked that day about many things: from their music and marriage to religion, regional politics, the music industry, continuity and change in tradition and of course the iconic place of Pratima Barua in Goalparia geet.
During the last three decades, the Bengali urban listener's introduction to songs of Goalpara has been through the voice of Pratima Barua  song—perhaps such a statement will not be too far from the truth. Indeed, in the 1970s and 80s, it was that one seductive song of Pratima Barua, plucked from a vast and varied repertoire of Goalparia songs, that hit the market—geile ki ashiben mor mahut bondhure. Where this song came from, few people knew, but most Bengali listeners in towns and cities would have heard it. Where do Goalparia songs belong, to Bengal or to Assam? Also, what is this form of music—is it a kind of bhaoaiya with distinctive regional characteristics, a form within a form, or is it an independent folk form? The matters of musical contiguity and linguistic and regional variations within forms and the act of naming forms, are all extremely complex. The famous musicologist, composer and singer from Assam, Bhupen Hazarika, had said in a documentary film on Pratima Barua that the Goalparia language stands somewhere between Assamese and Bengali. Not only linguistically, musicologically too perhaps. And maybe Pratima Barua too had this duality/split in her.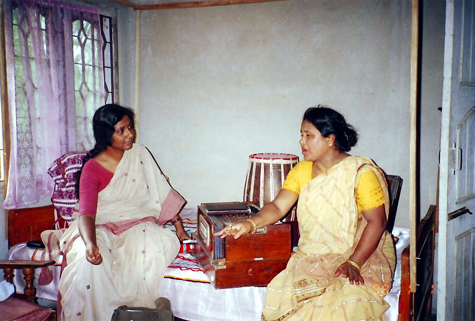 Rahima Kolita with Moushumi
She lived in Gouripur, in Assam, quite near Cooch Behar in north Bengal; also not far from Dhuburi in Assam. She was celebrated as Bengal's own, especially by Bengal's intellectuals, while she regularly performed on All India Roadio's Guwahati (Assam) station and recorded many albums there. Rahima Kolita's position is less ambiguous, she is known more in Assam than in Bengal, and she surely has a style of her own, quite distinctively different from Pratima's. Yet it seemed that she too could not help measuring herself against the baido/didi (elder sister), for it was this Pratima didi who had taken Goalparia songs beyond the regional boundaries of Assam and north Bengal to a wider and discerning audience, and had thus set a kind of 'standard' for this music. So much so, that when In 1998, a young student of anthropology from France (Annu Jalais, now an important anthropologist of the Sunderbans) wanted to write her MA dissertation on bhaoaiya, she was directed to Pratima Barua's house—Matiabag, the royal palace of Gouripur, situated on the bank of the river Gadadhar. And it was at in the course of her interview with Annu that this highly charismatic singer had declared, 'My name is Pratima Barua. If I must give my life for these folk songs of Goalpara, then I will do so.'
Rahima and Madhab too clearly give their life to this music, but they sing in a different time, from a different social location, for a different audience. Their music is less intellectual and more verging on the popular, although at its base is the same traditional music of Goalpara. They gifted me their recent Bollywood-style music-video, Moner Aayna, which would be a sharp contrast to anything Pratima Barua ever sang. Here in this interview though Rahima is not performing, she just talks and sings at ease, in her own home, in between giving us food and tea and paan. In this clip, edited from footage shot by Sudheer, Rahima talks about learning to sing in the midst of extreme poverty, her father's absolute joy in her musical achievements and the joy she herself derived from singing.
Written in 2011.
Related books
Barua, Nihar, Prantobashir Jhuli: Goalparar Lokjiban O Gaan (Bengali). Kolkata: Stree, 2000.
Datta, Birendranath, A Study of the Folk Culture of the Goalpara Region of Assam. Guwahati: University Publication Department, Gauhati University, 1995.