Kenduli,Birbhum. 14 January 2005. Fulmala Dasi
Listen to a song from this session
The senior baul singer, Fulmala, was passing by our room in Kenduli when Debdas Baul's youngest son, Uttam, saw her and invited her in. She stopped for this short interview and a couple of songs, recorded on camera by Sudheer Palsane. Fulmala said, 'Those days when I could really sing are gone'. Even though she had aged and had recently suffered a stroke, she still carried signs of a strong personality.
Fulmala had grown up in Faridpur in Bangladesh and she came to India with her husband, a kirtan singer, after Partition. From then on she had had a life as a singer, mostly in the company of the bauls of Birbhum, singing on trains and at melas.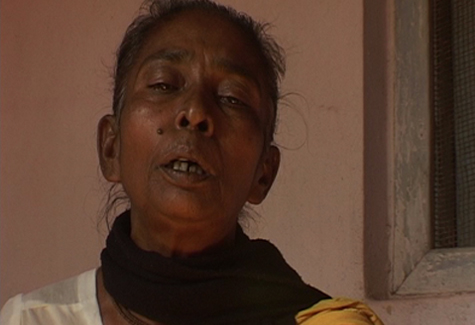 Fulmala Dasi
We met Fulmala again after almost five years, in 2009, at Bolpur station and she looked frail and shrunken, as though she could do with a bit of looking after now. She was with Gautam, Debdas Baul's second son (with whose family she lived now), and they were going to board the same train as us. We got onto the train and stood together at one end of the compartment. Fulmala first sang a song, then Gautam, their voices now drowning, now surfacing with the motion of the train. Gautam Das Baul, young and gentle and a little bit shy perhaps, seemed like a not-too-keen busker. It is so noisy, he said before starting. Fulmala was more resilient even now. 'Once my voice would carry to the other end of the compartment,' she said. Then they got off at Gushkara station, to take a train back to Bolpur.
At Kenduli, Fulmala had sung a song about the faith-train. It takes you to the end of this life on earth, and beyond, she sang.
Written in 2010.