Kenduli, Birbhum. 13 January 2005. Ashalata Mandal
Listen to a song from this session
Ashalata was magical on stage, performing the birth of Krishna through song, narration and dance. Now she was Basudeb, Krishna's father, now Kangsha, his wicked uncle,  now Jashoda, his adoptive mother. Her team of musicians, including her brother and her husband, both khol players, supported her as she made this mythological tale come alive for the large audience that sat spread on the floor of the tent in Kenduli where she was performing kirtan.
Kenduli, by the river Ajay, associated with the 12th century Sanskrit poet Jayadev (or Joydeb, as we would say in Bengali), becomes the meeting place of poets, singers and devotee-listeners every year at the time of Makar Sankranti or the end of Bengali winter month of Poush, which coincides with 14-15 January. The place is believed by many to have been the birthplace of the poet, although historically the fact is now disputed claiming Kenduli Sasan in Orissa to have been Joydeb's actual birthplace. Makar Sankranti is the time of the famous Kenduli or Joydeb Mela of Birbhum (the place is also called Joydeb), which is a fair held in the name of the poet, and to which singers and poets, mainly bauls and kirtanias have been coming for hundreds of years. The Dutch ethnomusicologist Arnold Bake had filmed baul musicians and Ajay bathers at Kenduli in 1932-33; the crowds then were obviously thinner, but the main reasons for coming to the fair were probably the same—to bathe in the waters of the blessed Ajay, then offer puja at the centuries-old terracotta temple of Radha-Binod and to listen to music. There are of course the other more mundane reasons for going to a fair—to buy important household goods, from pots and pans to fishing nets, and to have fun.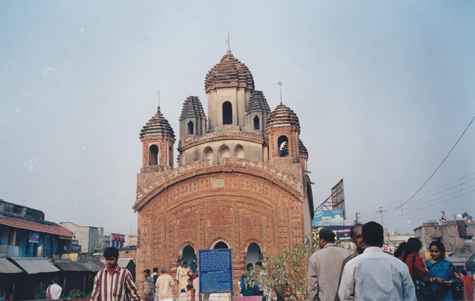 Radha-Binod Mandir, the centuries-old terracotta temple at Kenduli
While Bake was capturing an age-old tradition with new tools, he was at the same time also pioneering a trend of recording Kenduli and such other melas on camera.  Many filmmakers have since been visiting Joydeb and recording their impressions of the place. Interestingly, the main attraction for most urban travellers to this festival seems to be the baulgaan that happens there. Kirtan has come  less into focus (although Bake recorded both baul and kirtan at the mela), not just in films, but even in fiction and non-fictional writings about Kenduli. Interesting anomaly, if we remember that the saint-poet Jayadeva has been venerated down the ages for his Gita Govinda or Songs of Govinda or Krishna, sung as kirtan.
But at Joydeb you also see how kirtan, the form, has been adapting itself to changing times, incorporating styles of TV drama, with costume and synthesised instrumentation. And you can hear lines from popular film music creeping into the compositions. This is very different from the kirtan we heard later in our fieldwork at Baotipara or Sadhuree in Bangladesh, where an older time seems to prevail. Ashalata Mondal's performance had all these new features, but doubtless she was a brilliant performer. And I think that what the kirtaniyas retain despite all the change that is coming in, is faith. They sing in faith and this 18-20-year old woman, just married and very much in love with her performer husband, also seemed to have that faith. She sang believing the words of her songs.
After the session was over, Ashalata came to our room on the mela grounds with her mother and the rest of the troupe for this conversation which Sudheer Palsane recorded on camera. She seemed as much at ease here as she had been on stage, and even while talking, when she broke into song, she seemed to unconsciously return to the stage, playing Radha, imploring Krishna to wake up at the end of a night of music, dance and love, for she would have to return to her everyday life of domesticity now.
Written in 2010.