Jahajpur, Purulia. 27 February 2006. Naren Hansda and others
Listen to a song from this session
This audio clip is from a documentary film on people who live in the forest regions of south-western West Bengal and policies which govern their lives, for which I was asked to compose music. I decided to base the music on field recordings and so Sukanta and I went to Jahajpur village of Purulia, to the house of Naren and Chapalabala Hansda, a musician couple from the Santhal community. We had gone to their village on an earlier field trip in 2005.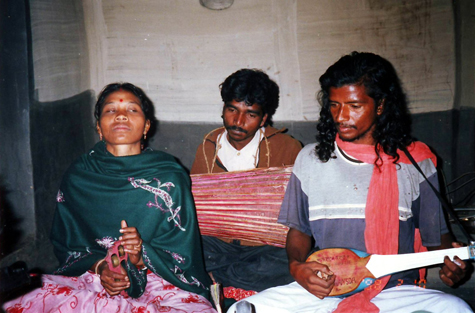 Chapalabala, Jagadish & Naren
The music, though belonging to people who live within the official boundaries of 'Bengal', is not 'Bengali' in the same sense as baul or bhatiyali or kirtan is. Rather, it has contiguity with the music of the tribals of the Chottanagpur region of Jharkhand and Bihar. The instruments played are also typically tribal—the big drum or dhamsa that hangs from the neck, the bowed kendri and, the Santhali flute. This ceremonial music is also very community based—music of tree-worship, music of harvesting or of birthing and so on.
The musicians here are Naren, Chapalabala, Panchami, Shibnath and Jagadish Hansda, Anil Kisku and Ashok Hembram.
Written in 2010.