Faridpur, Bangladesh. 24 January 2006. Binoy Nath
Listen to a song from this session
This recording session was organised by our friend and teacher Salamat Khan, a confirmed bohemian who lives in Faridpur town in the west of Bangladesh and knows the place and its people inside out. For years one of his main passions has been songs of the 19th century poet-philosopher of Kushtia, Lalon Fokir, Faridpur being not far from Kushtia.
Salamat Khan, once a medical college drop-out and later self-styled journalist, is also a member of the Faridpur Sahitya Sanskriti Unnayan Sangstha, a group that engages with local cultural activities, especially with the propagation of songs of Lalon. The men who had gathered this evening, aged presumably between 40 and 70 years, were rather sombre, all dressed in white (Salamat Khan was the sole colourful exception), and there was a certain austerity about the way they sang. It has taken me several years to understand that this austerity is characteristic of the Kushtia bauls, that they do not go for much embellishment, but present the song as text, sermon-like.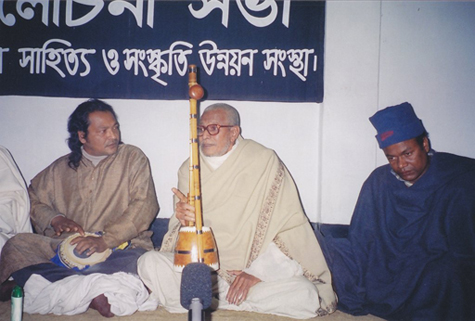 Binoy Nath
Here we have chosen a song of Lalon Fokir that Binoy Nath, the senior-most member of the group, had sung. 'Which path will you take? If you choose to go with the guru, then you must leave behind your social obligations.' That, roughly, is the essence of what he sang.
When we went back to Faridpur a year later, we heard that Binoy Nath was no more. We had not had the time to listen to the Faridpur recordings during this whole time, the songs lay buried under more recent recordings. For us, attentively listening to Binoy Nath and the other Faridpur bauls from this session coincided with listening to a collection of baul songs from Kushtia that the Lalon scholar, Carol Salomon (1948-2008), had recorded in Santiniketan in 1981, the centenary year of the religious studies scholar and writer, Kshtimohan Sen. It is now that the uniqueness of Binoy Nath's singing was revealed to us.
It is our loss that we did not record him more, just as Carol Salomon's sudden death is a great loss for baul studies. I wrote to Dr Richard Salomon, Carol's husband, expressing my wish to present a recording of Khoda Baksh Shah song singing Lalon alongside Binoy Nath's song and he has very kindly granted us permission to do so. I wanted to place these two recordings side by side as an instance of a style of singing Lalon that so typically belongs to Kushtia. In so doing I wanted to share with our listeners a thought that comes to me about the continuity of style in some particular (closed) communities—they seem more like communities within communities—while overwhelming changes take place elsewhere.
Written in 2011.
Related books and links:
http://www.lalon.org/
http://en.wikipedia.org/wiki/Lalon
http://www.scribd.com/doc/7253135/On-Fakir-Lalon-Shah
http://www.monermanush.net/scope.html
Allen Ginsberg reads "After Lalon"
Chakraborty, Sudhir, Bratya Lokayata Lalan, Kolkata, 1992
Jha, ShaktiNath, Fakir Lalan Shai, Calcutta: Sangbad Prakashak, 1995