Dhaka, Bangladesh. 24 December 2004. Ali Akbar
Listen to a song from this session
Ali Akbar, a young folk singer from Kushtia, arrived at the home of my filmmaker friends Tareque and Catherine Masud, in Dhaka on this December night when I was staying with them. He had come to the capital to take part in some cultural event. The folk music collector, singer and radio and TV producer, Mustafa Zaman Abbassi, son of the famous singer Abbasuddin, often summoned him to Dhaka for performances.
Ali Akbar appeared self-absorbed, even temperamental, and when Tareque requested him to sing, he said he wasn't feeling good about his voice. Moreover, he showed his displeasure with the harmonium that was there in the house. Bellowing with his left hand, as he ran his right-hand fingers over the reeds, they kept getting stuck, causing the singer some frustration. I understood the importance of the harmonium once he started to sing.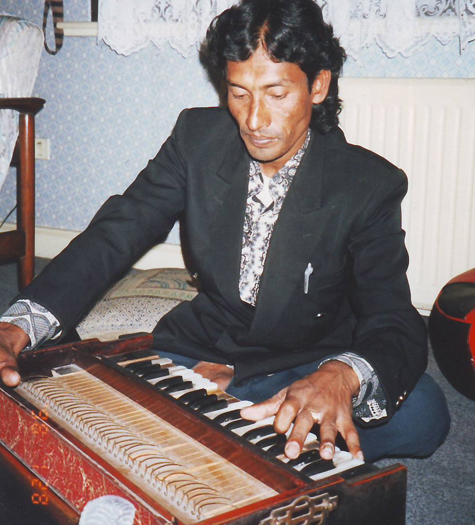 Ali Akbar
Ali Akbar sang two compositions of the famous twentieth century bichchhed composer and kobiyal (singer of kobigan or narrative-argumentative song) , Bijoy Sarkar and one of Bijoy Sarkar's disciples, Rasik Sarkar. His style of singing was highly ornamental, verging on the semi-classical. The harmonium plays an important role in this style of singing, adding embellishment to the vocal line, filling each and every gap with clusters of notes. Bijoy Sarkar's bichchhed gaan or his songs of separation have an intensity about them, whoever the singer might be. To this was added Ali Akbar's own intensity. He sounded almost like the urban singer of baithaki gaan (songs of nineteenth century Kolkata in which Bengali folk, kirtan and north Indian classical styles come together), despite his rural diction. Ali Akbar was also not happy to sing without the dhol and so he stopped at just three songs and left.
Interestingly, a year and a half later, we met a very different Ali Akbar in his village home in Dakshin Bhabainpur, surrounded by family, friends and other musicians. That evening him and his friends had put up a real show for us and there were people all around who had come to listen, filling up his courtyard, even perched on branches of trees. Ali Akbar played the dotara and danced as he sang songs of Bijoy Sarkar and Lalon—two composers from neighbouring regions of now western Bangladesh, with distinctly different styles of composition. Ali Akbar, however, presented them as his own, with his own ornamentations. This, despite living in Kushtia where Lalon Fokir's shrine is and from where austere styles such as Binoy Nath's (whom we recorded in Faridpur) or Khoda Baksh Shah song' (recorded by Carol Salomon in Santiniketan) have emerged.
Written in 2010.