Dhaka, Bangladesh. 23 December 2004. Monjila
Listen to a song from this session
Monjila is a singer of bichchhed gaan and pala gaan who lives in Dhaka. I met her through the Bangladeshi filmmaker, my friend, Tareque Masud; she had played herself in his and Catherine Masud's documentary on the oral history of the 1971 Bangladesh Liberation War, Muktir Kotha (Words of Freedom, 1999) for which I had also composed a song, and her provocative and fearless comments on gender and social inequality were in circulation among our friends in Dhaka. Later, with Tareque's feature Matir Moyna (The Clay Bird, 2002), we came together again on the same project, but met only two years later.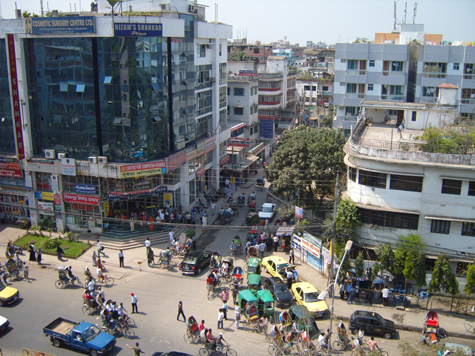 Street Corner, Dhaka, Bangladesh
This session took place in Tareque's office in Dhaka. It was my first trip to Dhaka for fieldwork. Shah Alom Boyati, or Boyatibhai as we all call him, folk singer and actor who has been a very supportive guide in the first phase of my Bangladesh work, had made arrangements for this session. But it had turned out to be a rather heavy day with the Kushtia baul Bolai Shah debating with Pagla Bablu of Faridpur, who is a popular folk singer, about whether or not this music should be recorded. Bolai Shah said he would sing but I could not record, because truths held in his songs demanded a certain commitment and preparation on the part of the listener and such knowledge could not be freely imparted to any or everyone. Pagla Bablu had no problems with the recording. Ebadat, Bolai Shah's gurubhai (disciple of the same guru), remained silent. I started to feel like an intruder and kept switching off my recorder and turning it on, depending on who was singing. When it came to Ebadat's turn and I was about to stop the recording, he said he'd like to be recorded. All in all, the day had been stressful and I was regretting that Sukanta was not there with me.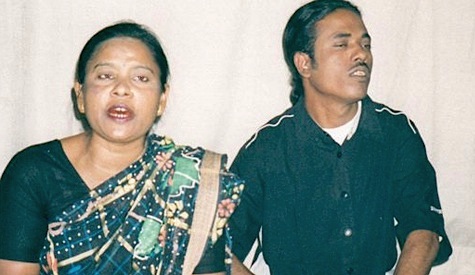 Monjila and Nazrul
When Monjila came with the dhol player Nazrul later in the afternoon, it was a great relief for me. She filled the room with her energy. She sang a couple of songs, among them this composition of the rebel poet-singer from Dhaka region, Mataal Rajjak, and there was something of his rebellion and sarcasm reflected in her voice too.
Later Monjila and I went into another room in the office for a conversation and she told me about the many seductions of music and her continuous battles to keep her art alive, despite barriers on all sides—home, husband, the music market, male singers and so on. A line she repeated many times during the conversation was, Ami to shilpi (I am an artist after all).
Written in 2010.