Debicharan, Rangpur, Bangladesh 18 January 2006 Anurupa Roy & Mini Roy, Shopon Das
Listen to a song from this session
From the time that I had set out for Rangpur in Bangladesh, I was keen to find one singer whom I had heard on a recording made by the ethnomusicologist Deben Bhattacharya (1921-2001), who is known for his collection of songs from the gypsy trail, among other things. Deben Bhattacharya, a Bengali originally from Benaras or Varanasi in Uttar Pradesh, India, had been based in Paris for the later part of his working life but he had recorded music from around the world, published albums of field recordings, made films, produced radio documentaries, even translated and edited books of the mystical poetry of Bengal throughout his eventful and prolific career. River Songs of Bangladesh, a collection of songs from different parts of Bangladesh mainly on the theme of the river, was one of his last albums of field recordings, released by Arc Records in 2001, the same year that he passed away. The girl I was looking for was on this album, her name was Anurupa Roy, but apart from knowing that she was from Rangpur in Bangadesh, I had no other information about her.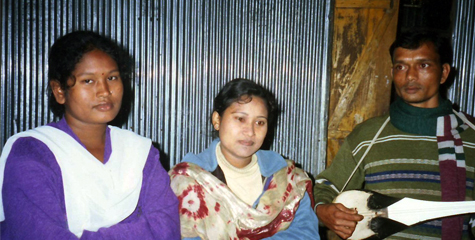 Anurupa, Mini & Shopon
It was Bishwanath Mahanta, the music teacher of Mahiganj in Rangpur, who helped us track Anurupa. He said we would have to go to a place called Sindurmotir Bajar in Lalmonirhat and there we could meet Shopon Das, a dotara player, who would take us to Anurupa's house. Our guide  Ershad, an NGO worker, took us to Sindurmoti where we met Shopon and he said he would come with us.
Sindurmoti, a place with a legend. has a little temple by the side of a pond dedicated to Sindur and Moti, two daughters of a king, Raj Narayan, who had sacrificed their lives to bring water to the people. Perhaps the little girls had drowned in this pond? The idols hold their hands upwards, unusually long fingers pointing to the sky. There is a Sindurmotir mela they have here at the end of spring, in the Bengali month of Chaitra, in first half of April. In these parts of Bangladesh I found the Hindu presence quite palpable, more than in some of the other regions where we have been.  Sindurmoti and Debicharan (Anurupa's village, where we were going now) certainly appeared to be majority Hindu.
Before we reached Debicharan, late in the afternoon, two other singers had got into the car—Mini Roy and Bipin Chandra Roy. And there was one other, Manik  Roy, who joined after we reached. Following the initial surprise at our visit and explanations, we had a lovely recording session with these young musicians, manily of bhaoaiya, in the courtyard of Anurupa's house, surrounded by her relatives and friends. Anurupa, Mini, Shopon, Bipin, Manik, hardly 18-22 years old, were like a team, supporting one another. 'Bipinda is very quiet but you must ask him to sing.' 'Manik also writes songs, you know.' 'It's her turn now.' 'No, it's hers.' They all seemed generally very happy to have this impromptu concert, more because we had gone from Kolkata, the big, elusive city of Bengal.  The city has its own attraction, especially to them, it must have more of a name.
Shopon played the dotara with everyone, and the bridge kept falling. But he had such a beautiful sound that we also asked him to play solo. Anurupa and MIni sang a few wedding songs on my request. They said they did not know the repertoire too well, but there was a woman who knew many songs and next time we went, they would take us to her.
Anurupa hadn't heard about the album River Songs of Bangladesh, which had taken us to them. 'Was there an album? I thought they were recording for the TV.' I said, yes, the album was released in England. Said, I'd make her a copy from mine and send. She remembered going with someone to Dhaka and recording in a hotel room. She was very young then, 16 perhaps. Her voice made me think about Nirmala Roy's daughter, Tumpa. Something about this region that brings out this tone.
I hope Anurupa got the CD I tried to send to her later through our Rangpur guide. When we go again for the promised wedding songs, I'll find out. Shopon told me on the phone that Anurupa is married now.
Written in 2010.