Chitarpur, Kotshila, Purulia. 28 November 2005. Musurabala
Listen to a song from this session
Musurabala is a nachni (woman singer-dancer-entertainer) from Purulia. The nachnis live outside mainstream society and do not enjoy rights that ordinary women in domestic settings do, although there is increased awareness about rights nowadays. Barring a few exceptions they don't enjoy respect as the artist either. Sindhubala Devi (died 2004), a nachni, was the first to get recognition as an artist from the state by way of the Lalan Puraskar of the West Bengal government in 1993. Her music is archived at the National Centre for the Performing Arts (NCPA) in Mumbai. There are others: Malabati, Parbati—the successful ones. But Musurabala enjoys no such privilege.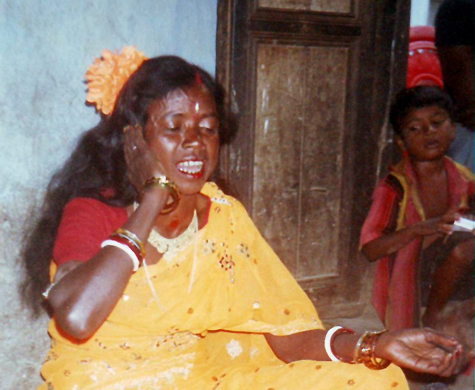 Musurbala
In our audio selection Musura sings a jhumur. The authorship of this song is contested; Musura's song, about the courtship of Radha and Krishna, bears the name of the folk poet Gourangia Singh, but later Amulya Kumar, senior jhumuria, gave me another version of the song, with the name of Binondia Singh as the author saying Musura had got it wrong. However, in these fluid conditions of singing and songmaking, often it is difficult for the outsider to know who is right and who is wrong.
This recording session took place in Musurabala's separate quarters in the house of her rasik, Amrit Mahato. His wife and children lived in the main house. This was Chitarpur village in Kotshila, close to the Jharkhand border. An extremely dry and rugged land, where the songs too seem parched, with no trace of sentimentality. Amulya Kumar, who had gone with us on this trip, played the harmonium and sang with Musura, while she danced; her rasik played different drums—madol, table and saran.
The session was mediated by theatre activist of Purulia, Bishwanath Dasgupta, Bishu. We owe him our first lessons on the music of Purulia.
Written in 2010.