Changrabandha, Coochbehar. 16 December 2004. Abhay Roy
Listen to a song from this session
Changrabandha, is a small town in the India-Bangladesh border in Coochbehar district of North Bengal, where we went to record some bhaoaiya musicians. Abhay Roy, one of the main singers of this session and a health department employee, lived here and the session was organised by our local guides in Coochbehar, Chandan Paul and Amulya Debnath, who often assist media, researchers and filmmakers visiting the region for its music. Chandan Paul's father was Harish Paul, a man who was instrumental in the production of some of the earliest gramophone records of the folk music of North Bengal. Harish Paul had a dealership of the Phillips company and was also passionate about folk music and folklore. From the 1940s he began to gather folk musicians from around different parts of Coochbehar and take them to the Gramophone Company of India's studio in Calcutta and get them recorded under his music directorship.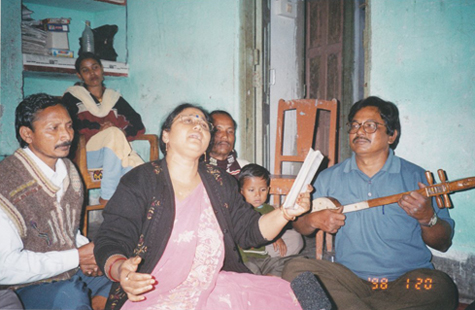 Bhaoaiya session. Abhay Roy is playing dotara.
Those days of glory are long gone, the family business has split up and there are now few occasions to remember the contribution of Harish Paul had made towards the spread of bhaoaiya and chatka songs and the folklore of Coochbehar, taking them beyond the region's territories, except when reminded by his son, Chandan Paul song . Two days prior to this recording session, on 14 December 2004, we had taken a portable mono record player to Chandan Paul's house to listen to some of his father's old and dusty vinyl records. That is what Chandanda had said to me when I first met him July 2004; that I would have to bring my own turntable if I wanted to listen to his father's collection, as there was no record player in the house.
Harish Paul had an eye for fine and interesting things and when his son opened the trunk to show us his collection, there was, among other things, also an old German pen, an empty lager bottle from more than 150 years ago, some pieces of matrix or master copies of records printed on one side, even old records released by the Columbia Phonograph Company in New York in the year 1901. Chandan Paul played for us a 78-rpm record of Nayeb Ali Tepu song, a master singer of bhaoaiya songs who lived between 1916 and 1961 in Choukashi Balarampur in Coochbehar, near the native village of the renowned singer Abbasuddin (who emigrated to Dhaka after the Partition of India). It was Harish Paul who had introduced Tepu to HMV.
Chandan Paul seems to carry the mantle of his father, even if only symbolically. The regional expert, involved in creating a specialist list for a record company in a newly independent country, has lost his exclusivity today. Yet, Chandan Paul assumed the role of music director at this recording session in Changrabandha, instructing the sisters Shikha and Nita Roy from Bhetaguri, Anjana Roy from Coochbehar and Abhay Roy of Changrabandha on repertoire and style, auditioning Shanti Roy Sarkar from Helpakuri, telling the flute when to play and the dhol when to stop, testing Sukanta's recording and going for the 'final take'. The border town's primary health centre where the session was taking place was transformed into a veritable studio.
Abhay Roy's bhaoaiya, which illustrates this session, has that feel of the studio about it. It sounds well rehearsed and quite flawless—not something we'd usually expect from a field recording. Abhay accompanies himself on the dotara, Malay Kinnor plays the dhol, Dinanath Adhikari the flute, Amulya Debnath the mandira.
Written in 2010.