Chandrapur,Cachar. 28 August 2005. Janmashtami
Listen to a song from this session
Video recording by Sudheer Palsane of women performing rituals on the occasion of Janmashtami or the birth of Krishna, at Chandrapur village in Cachar, Assam. Although situated in Assam, this region, which is contiguous with eastern Bangladesh, is primarily Bengali-speaking, Song and dance are a part of this ritualistic worship of Krishna. The principal singer was Reba Nashkar and Chandrapur was her natal home, as it was for most of the participating women. They were village girls married within the village or outside but who returned to their parents' homes every year at the time of this festival in the Bengali month of Bhadro (August-September). Some would also be married in Chandrapur. Reba Nashkar said she had first learned these songs and rituals from her mother.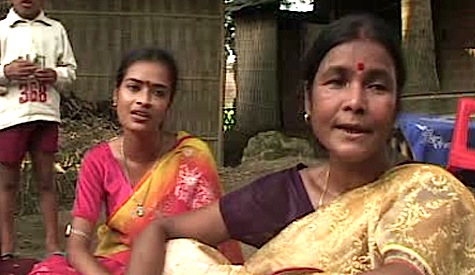 Reba Nashkar talks about the rituals
Shubho Prasad Nandi Majumdar, singer and college lecturer, was our local guide in Cachar during this trip.
Written in 2010.