Bolpur, Birbhum. 25 November 2003. Nimai Chand Baul
Listen to a song from this session
This was my first field trip, a kind of recce before the formal start of my IFA-supported project to explore biraho in the folk repertoire of Bengal. I went with my friend, Sudheer Palsane, a cinematographer. He had a Sony PD 150 DV camera, which was our recording equipment for the session.
The reason for choosing Nimai Chand Baul, or Nimai Chand Goswami as he is mentioned in the Manuche O Rautan album (Brussels: Fonti Musicali, 2002), was that I liked his semi-classical style of playing the dotara on that recording. Also, I had a reference from a music collector in London, Rangan Momen, who has been interested in baul poetry and practices for a long time. As for me, I knew next to nothing about fieldwork and it seemed easy to start with something familiar, even though there was no obvious connection between what I had heard of Nimai and my proposed theme of research.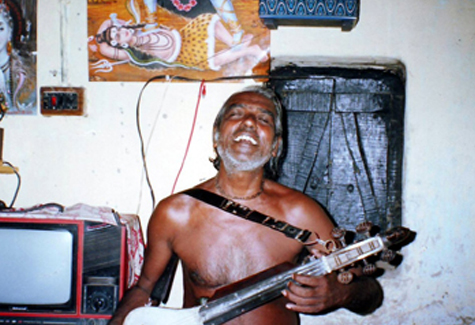 Nimai Chand Baul
Nimai Chand was born in erstwhile East Bengal, now Bangladesh, has wandered through many places before settling down in Suripara, a neighbourhood of Bolpur town in Birbhum district, West Bengal. For a living he sings on trains which pass through Bolpur, which is a common practice amongst the bauls.  He also goes to melas and concerts, has performed and recorded with other more renowned baul musicians abroad, played music in films. However, none of this has had any lasting impact on the material circumstances of the life of this musician, now almost 60—his small little house bore signs of permanent want. But that again is what I have later seen to be the case with most  musicians who have had any brush with a larger world of artist, audience and producer.
Nimai welcomed us, complete strangers, but friends of friends. Our visit also meant paid work. He took down his dotara that hung from a hook on the wall and started to tune it. An old instrument, which he played with grace and beauty. He said he had got it from his teacher, the master of dotara, Kanailal Shil. Throughout that 90-minute session, Nimai kept talking—possibly mixing fact with fantasy—about his connections with the famous from the world of Bengali folk music—Anantabala Baishnabi, Abbasuddin , Adul Alim and so on. He sang songs from many different folk traditions—baul, bhaoaiya, jhumur—and you could see he was not really fixed on any one of them, but could render all with a certain efficiency. What really dominates in Nimai's music, though, is his dotara.
Later Nimai Chand Baul has made me think that for some singers the epithet 'baul' might be something they chance upon owing to the circumstances of their lives; in another situation, with another kind of training, they might have been some other kind of musician, perhaps singer of Nazrul geeti (compositions of Kazi Nazrul Islam) or adhunik gan. This is what I have felt also about singers like Ali Akbar of Kushtia and Sunil Karmakar of Mymensingh
 song, whom we recorded later in our travels. Also Tarak Das Baul of Joydeb, Kenduli, whom we have heard so many times at our many melas.
Here is a clip from a composition of the mystic folk poet Bhaba Pagla, displaying Nimai Chand's ornamental style of singing and playing the dotara.