Bethnal Green, London. 8 March 2007. Baul Abdul Shohid
Listen to a song from this session
From Ruhul Amin to Ahmed Moyez. From Ahmed Moyez to Noman's house in Bethnal Green in East London, where many of the people I had met about a year ago in Betar Bangla radio station had also come. It was our Bethnal Green Party, a communal celebration of Bangladeshi immigrants, with friends, food and music. The session reminded me of the meetings we used to have at home—middle class and urban, with a mix of poetry, politics and music—art song, protest songs, folk music, conversation and laughter. New rituals of new communities in a new 'homeland'. Some sans papiers among them. Noman, in whose council house we were having this party, ostensibly ran a small business in printing. In 2010, when we went back to London, we could not find him however. Nor Shahan, someone who worked very closely with us on this 2007 field trip; he had apparently got embroiled in some legal case.
The Ali sisters, Amina, Afroza and another younger one were present; they are all second generation immigrants and their parents live in Kent. However, they had been sent back 'home' to have part of their education in Bangladesh. So, they are still quite directly connected with life in Bangladesh. That evening Amina sang a song from the Bangladeshi film O Amar Desher Mati. Her fiancé Sayeem read a poem—he had only just arrived from Bangladesh and was working as a journalist for an East London newspaper. Then there was Tofael, another second generation immigrant, who was more 'Londoni' than the others. He ran a translation/interpretation agency in East London. He sang an old Mukesh hit from a 1971 Bollywood film, Anand—O maine tere liye hi saat rang ki sapna chune. Interesting how widespread the influence of Bollywood is. Tofael probably would not speak Hindi, yet these Bollywood songs have crossed barriers of language and become cultural markers of a ubiquitous South Asianness. There were other talks of Bollywood at the party. Amina said how she had learned not to feel so antagonistic towards Pakistanis (referring to Bangladesh's war of independence against Pakistan in 1971) after seeing a Shah Rukh Khan film.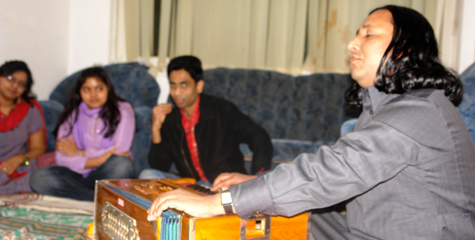 Recording at Bethnal Green, London
Akash, who worked in the social service sector, was another second generation immigrant, who was more into art and protest songs of Bengal, obviously nurtured in a 'cultured ,middle class' environment. He sang the new Bengali 'anthem' Ami Banglay gaan gai (I sing in Bengali), a composition of the Kolkata singer-songwriter Pratul Mukherjee, also one of my more widely known songs, Ami shunechhi sedin.
The singer showcased here is Baul Abdul Shohid, not 'middle class' like the rest of the people who had come to the party. He was a cab driver, came to London from Sylhet as a young adult in search of work. Found something to make a living from as well as a physical and spiritual community to connect with. Here he sings a composition of Kaari Amir Uddin, a composer of mystical songs, who hails from Sylhet but has now made Essex his home and has many disciples in the community, Abdul Shohid among them.
After the party was over, Shohidbhai drove us back to where we were staying in South-West London, telling us stories of his own journeys as he drove through the deserted streets of a city gone to sleep.
Written in 2013.
Related Link: