The Travelling Archive is a shared space of listening to field recordings which come out of a journey through the rich and varied folk music of Bengal, covering mainly Bangladesh and the eastern Indian state of West Bengal and some adjoining areas of Assam in the east of South Asia; even distant locations such as the Bengali/Bangladeshi neighbourhoods of East London.
This journey was begun in 2003 by Kolkata-based singer and writer Moushumi Bhowmik, soon to be joined by sound recordist and sound designer Sukanta Majumdar. As the two travelled together, a map of endless possibilities began to unfurl before them. Over the years the road has taken many turns. From recording and documentation, the project has evolved to explore new ways of research and dissemination, through archiving and working with archival material; writing and publication; presentation-performance and lectures; collaboration with museums and art galleries; even launching a record label with selections of field recordings.
The project proposal received its first grant in 2004, from Bangalore-based India Foundation for the Arts, under their two-year Arts Research and Documentation scheme. At this initial stage, the project was called 'Love, Loss and Longing: Biraha in the folk music of Bengal'. The second grant also came from IFA in 2007, again for two years, for research, documentation and dissemination. It was now that the project developed into The Travelling Archive. Meanwhile, in 2006 the British Library and the Charles Wallace India Trust gave two short-term grants to initiate our Migration, Memory and Music project. In 2006, Ford Foundation India gave a four-month educational grant to work on this website, which was launched in 2011. In 2012, Prince Claus Fund gave us a one-year grant, to take the website through its second phase of development under a project titled 'Songs Unbound', which was launched in 2014. In 2015 we have had a third grant from IFA, this time under their ten-month Archival Fellowship programme, to work on the Bengal recordings and writings of Arnold Bake. Most recently, we have received support from the British Library, the Helen Hamlyn Trust, Rich Mix Cultural Foundation, London and Creative Research into Sound Art Practice (CRiSAP) of the University of Arts, London to work on an exhibition in London in the summer of 2015 entitled 'The Travelling Archive in East London', while Moushumi has received a Scaliger Fellowship to work for a month at the Special Collection section of Leiden University in The Netherlands.
Surely such institutional support is important, but we would not be able to sustain such a project for all these years without our friends. We are supported in so many ways and by so many people, how to name everyone? The web of friends spreads out as we move through the pages of this site. Some friends are more involved than others. For example, our debt to Salamot Khan, Sanjay Sikdar, Ambarish Dutta, Suman Kumar Das and Satyaki Banerjee only keeps growing. We should also acknowledge that we have freely used here some of Amit Roy, Salamot Khan and Suman Kumar Das's photographs. Manojit Chattopadhyay has been an involved website developer; he truly understands the needs of our project and innovatively works for it, often braving challenges where others would happily give up. We are grateful to him for it. While most of the visual design issues are now handled by Sukanta, there is always Sunayan Roy, our original designer and mentor, who we can turn to for any help or advice. Subhadeep Ghosh has been with us from the time we began to plan the website, in 2009, so much so that he now calls The Travelling Archive 'our' project.
Notice Board
Shibaditya Sen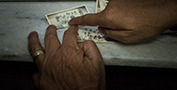 We mourn the passing of Shibda, Shibaditya Sen (1952-2018), our teacher in Santiniketan. Gone too soon, and another light has faded out of our sky.
Read more in our tribute page
Next