Travelling Archive in East London 2015
How do we listen to the past? How will the future listen to us?

'The Travelling Archive in East London: Field Recordings and Field Notes from Bengal', held in the Lower Cafe Gallery of Rich Mix, Bethnal Green Road, London from 22 June to 5 July 2015, was envisaged as an exhibition in sound, text and image, and performance, which would address issues of homeland and migration, specifically in the context of 'Bengal' as a home left behind, and East London, as the new home built over generations by those who came and keep coming from that home in Bengal. Now of course new and newer generations of Bengalis are born and grow up in East London, with the dual identity of Londoner or British, as well as children and grandchildren of immigrants. So, in a sense Bengal is both the left home and the home made elsewhere, as the shadow of the old home falls on the face of the new one. More generally, the exhibition would see Bengal and East London as pegs in a story exploring the connectedness and dislocation which we experience in our journeys from one land to another. The exhibition would bring together field recordings made by The Travelling Archive for over a decade in Bengal (use the Search Text: Moushumi Bhowmik Collection: Folk Music of Bengal) and recordings made in and around London from 2006 (use the Search Text: Moushumi Bhowmik Collection: Migration, Memory and Music: London recordings) (parts of which are kept in the British Library's Sound and Audiovisual Archives, as collection number C1346), as well as fresh field recordings from and around London, making a connection, primarily through sound, between our many homes near and far; real, remembered and imagined. As in the rest of our work, in this exhibition too we were trying to cover a 'Bengal' made up of Bangladesh, eastern India, and the Bengali diaspora.
Institutionally, we were supported in this exhibition by The Helen Hamlyn Trust, Rich Mix, British Library and Creative Research into Sound Arts Practice (CRiSAP) of the University of Arts, London, while individually many artists and friends in the UK, India and Bangladesh helped us in countless ways to give shape to our ideas
This exhibition sought to make connections between The Travelling Archive's recordings from the subcontinent and the voices of local people in East London; also make connections between their already recorded and archived voices and their live voices; that is, make connections between the immigrant communities' past and their present, while keeping records for the future. Through our own recordings and a selection of archival recordings related to Bengal, we were attempting to create a space where different histories of Bengal, often unheard, often ignored, often erased, often in conflict, would play out with one another. This we had felt was important as there is in the UK, a mainstream projection and understanding of Bengal as being just Bangladesh and just Muslim and just post-1971, which is far from the layered, fractured and complex entity which in reality Bengal is. We also thought of this exhibition as something where we would try to place the Bengali/Bangladeshi voice within a larger, diverse and complex soundscape of London. In fact, it is this complexity and diversity of the home left behind and the new home that we wanted to bring out in this exhibition, because we felt that these issues are of great relevance in our present time of increasing intolerance for the Other; who the Other is depending on context, perspective and politics.
In terms of our work with archives, we thought that we could try to bring related recordings out of the British Library and give to the local people an idea of their 'presence' in an institution so close to them, yet a place many would otherwise not visit. In effect the exhibition did become such a site of direct physical, emotional and intellectual interaction between an archive and who/what it archives. We tried out various ways of engaging with an archive. Archival material was presented in their raw form to audiences. The same material was edited and presented through mediation. Finally, archival material was used to create sound art and performance.
The exhibition had three audio loops, designed by Sukanta Majumdar.
• FIELD RECORDISTS
We strung together the works of many 'field recordists' who have worked in and out of Bengal, breaking out of the conventions of who a recordist is, and what might be seen as a field recording. We presented these recordings through our own mediation, making connections between them, reading out our own, sometimes highly subjective and personalised introductions to each recordist. Our featured recordists were Arnold Bake, Deben Bhattacharya, Kali Dasgupta, Jasimuddin, Nihar Barua, George A. Grierson, Khaled Chowdhury, Carol Salomon, Hemanga Biswas, Mary Frances Dunham, Pratima Barua, Soumya Chakrabarti, Sadhu Guru Boishnob (Record label run by Rangan Momen in London and Baul Robiul in Nadia), Rolf Killius, Pradip Pal, Tom Vater, Ziauddin Khan (Pablo), Jyoshna La Trobe, Surojit Sen, Dave (David) Kane and Muhammad Ali Ahsan, who came in this sequence in the loop. Many of them cannot be called field recordists in any conventional sense. Take Nihar Barua for example. She came from the royal family of Gouripur in the Assam-Bengal border region of Goalpara and recorded whatever she heard and saw, in her writing; Or take Kali Dasgupta, who travelled extensively and learned the songs from the road and sang them too, recording and carrying his 'archive' in his body.
• READING THE IMAGE
Here we were presenting clips from our recordings in their raw form. We chose two pieces, one in Bangla and another one mainly in English, from our recordings, where we felt that the borderline between the sonic and the visual was blurred enough for the sound to be almost seen. Raw and unmediated, yet in the presentation of the archival recordings, in our curation, we are surely political, as all storytellers are. Here is a clip from the soundtrack.
• WHAT IS HOME?
This was an artwork conceptualised by Sukanta and Moushumi and created by Sukanta, which essentialized the theme of the exhibition. It was made with archival recordings and hence we are copyright bound and cannot present the soundtrack, or clips from it, but here we have a transcript.
There were two selections of short films to play from two DVD players, which showed rare performance footage, old and new, from the British Library and The Travelling Archive's resources.
• PROFILES, in which we had a set of short videos from The Travelling Archive's recordings, many of which are uploaded on this website.
• ARCHIVAL FOOTAGE, where there were videos we have received from the British Library.
There were also two computers which held our two archives. You can see the list of items on our catalogue.
• THE BRITISH LIBRARY AT THE TRAVELLING ARCHIVE
• THE TRAVELLING ARCHIVE IN THE BRTISH LIBRARY ARCHIVES
There was also a silent video projection on the main wall of the gallery, which ran in a loop and sometimes listeners watched as they listened, making their own connection between sound and image.
Finally, there was the facility to record the listener/viewers' voice inside the exhibition's recording booth.
We opened to a full gallery on 22 June 2015, while over the following week people came in, some days more, some days only a few. Some listeners came back again and again because there was so much to listen to.
On 2 July we had an intimate and interactive session with the interdisciplinary artist Ansuman Biswas, entitled 'Echoes of Desh and the Cosmic Background Radiation'. As someone born in Bengal and brought up in the UK, Ansuman talked about his engagement with the idea of 'homeland'. For him Bengal was this 'ever-present drone behind all his activities', he said.
The last day, 5 July, was beautiful and like a 'mela'! This closing ceremony took place in the Main Space of Rich Mix, while the exhibition stayed open in the Lower Cafe Gallery. The four-hour event became a meeting of artists and listeners, academics and social workers, locals and others, in the midst of music, food, conversation, films and so much more. From local Nazrul singer Afia and spoken word artist Leesa Gazi; the Blues singer Arifa Hafiz, British Bengali band Khiyo, Tagore singer Sahana Bajpaie, Indian classical singer Chiranjib Chakraborty to singer-songwriter Arunendu Das–a map of the rich, diverse and complex space of Bengal this exhibition tried to project, seemed to unfurl before our eyes. Sonic journalist Peter Cusack, who has been a mentor for The Travelling Archive, made a presentation on sound and memory with special focus on London sounds. We showed a clip from a film on the Bengali traveller and field recordist Deben Bhattacharya, while Rosanne Dasgupta spoke about her husband, singer Kali Dasgupta's experience of singing in London's folk clubs with Ewan MacColl and Peggy Seeger in the 1960s. East London's brilliant community activist Julie Begum was one of the presenters of the show; Leesa Gazi was the other. We also played our recordings of some of our artist-interviewees, who could not come to the closing event, including Susheela Raman, Helal Miah, Dr Das (ADF) and Soumik Datta.
The exhibition folder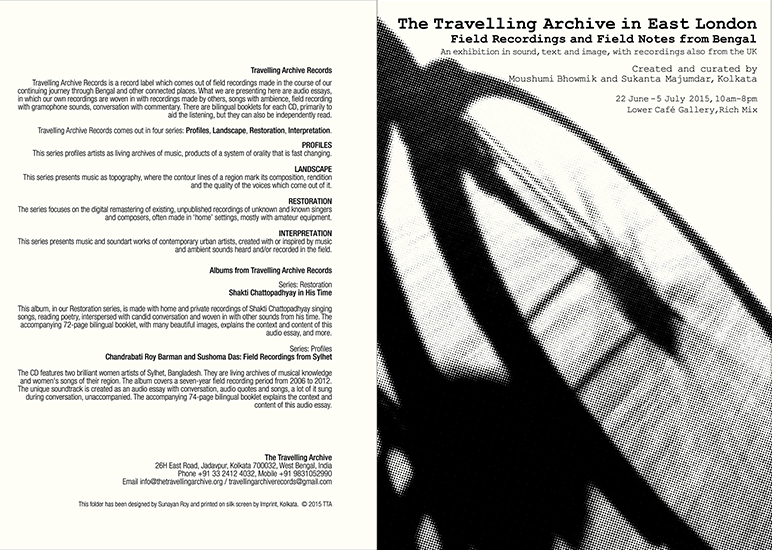 Folder front and back cover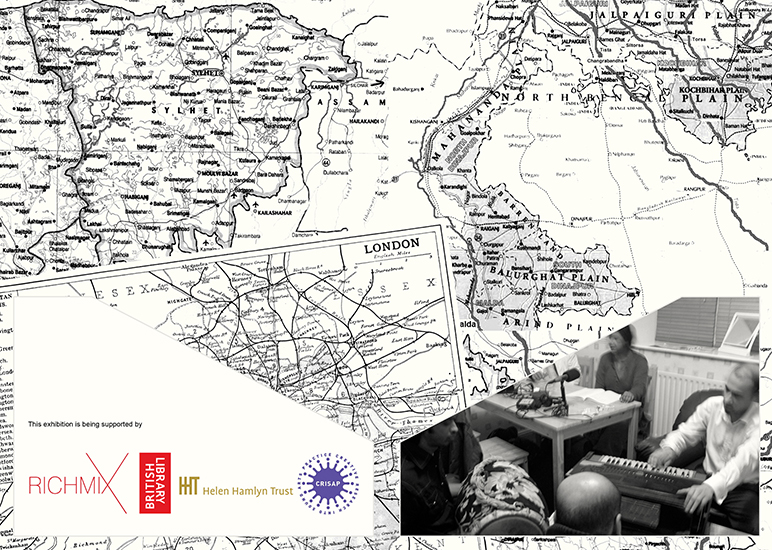 Folder inside
Separate But Connected
The first time I met Moushumi Bhowmik was at the first Sound and Anthropology conference which was organised between my department of Sound Arts and Design at London College of Communication and the Social Anthropology department at St Andrews University, Scotland. What started as a small-scale collaboration between two academics developed, much to our surprise, into a significant international conference which has proved pivotal in the careers and artistic practice of many of the presenters and participants. It was generally agreed that Moushumi's presentation "Moving with the Song: Loss and Longing in the Migrations of Bengal" was the most enjoyable of the conference, punctuated as it was by her unaccompanied voice bringing songs of separation from the villages and towns of Bangladesh and West Bengal into the staid lecture theatre of this ancient Scottish University.
Since 2003 Moushumi and Sukanta Majumdar followed a path pioneered by some of the most internationally renowned folk song collectors such as Alan Lomax, John Lorne Campbell and Margaret Faye Shaw. In common with them their collections are now part of the holdings of famous and austere institutions such as the British Library which ensures the validity and longevity of their endeavours. Some of the time they cross the paths trodden by Arnold Bake – the Dutch field recordist who travelled round Bengal, inspired by an initial interest sparked by the charismatic composer and singer Rabindranath Tagore, recording folk songs, in the late 1920s and early 1930s. However, compared with these pioneering recordists and collectors, the endeavour that Moushumi and Sukanta are engaged in is more personal and heartfelt.
Moushumi and Sukanta grew up in post-partition Bengal and it is difficult to escape the feeling that their work is informed by their own sense of loss, maybe not directly felt, but experienced like a distant and barely heard whisper which provides a background to their day to day life and that of their families, friends and neighbours. While Bake recorded the songs of Bengal, a place he felt deeply about and made friends in, yet a place that was 'other' to him and only one of the places that he worked in and collected from in his life, Moushumi and Sukanta are listening to and trying to understand the voices of their own past channelled through the voices of the present, as they manifest through song. Their research carries questions that are both specific and general: What of the past is carried into the present? How much of the present can be understood in terms of the past? How do the past and the present share ideas and concerns? How much of this is carried from 'here' and re-rooted 'there'?
Through their travelling together through West Bengal and Bangladesh and the wider Bengali diaspora, Moushumi and Sukanta have listened to, learned and recorded numerous songs, including so many driven by loss and longing, telling of schism and of homes left behind and remade. They have trodden paths made by memory and song and gathered together these individual voices and memories, of the singers, their people and the singers that went before them, to become a multi-voiced, multi-faceted collective memory. In contrast to many of the great collectors mentioned above, Moushumi and Sukanta's Travelling Archive is not solely, or even primarily, a musicological endeavour; their methods are far from conventional, their criteria is driven by personal association–emanating from a web of memories. It is an archive of memory transmitted through sound with each lyric, voice, cadence, rhythm and tone carrying its own whisper of the past. It is an archive that Moushumi and Sukanta are both collecting and are part of, and through their immersion, writings and reflections on the journey, we become immersed. As Moushumi writes on the travelling archive website:
"In the beginning it was just a personal journey, a random collection of songs from the road, with no particular purpose or method in mind. I was picking up music with which I could instinctively connect, as a musician. There was no route map laid out before me, only repeated visits to music stores of Patuatuli in old Dhaka which sold folk music of Bengal, during my trips to Bangladesh for reasons other than music, between 1994 and '97. Cassettes began to pile up on shelves at home in Kolkata, many of which remained wrapped in cellophane, gathering dust. But some I played over and over till their songs started to become part of my own repertoire. Then I wanted to know more than just the song."
The cassettes mentioned here are a significant part of the process as the travelling archive is not just concerned with making recordings but it is also about the act of recording and re-recording. Past recordings jostle with the present including the domestic home recordings, 'professional' recordings from Bake and Deben Bhattacharya and recordings of often visited and revisited places and people.
The recent recordings in the Travelling Archive are made largely by Sukanta, who also works in film sound. It is quite unusual for song collectors (or oral history collectors for that matter) to work is this collaborative way. In general the same person records and relates to the 'subject', but in this case Moushumi does the relating and the interaction with people and Sukanta records. This luxurious division of labour results in more than the sum of its part–yes, the recordings are beautiful art objects and yes, the interactions with people are obviously rich and full of mutual respect but the whole endeavour is driven by their collaboration, and the hours of planning, discussion, analysis and sharing of knowledge is obvious from the website and CDs. You can even hear it through the recordings which not only give you the song but also the context– the built environment, social spaces, social relations and interaction and the movement of people through space.
"The music, which is still largely part of an oral tradition, is presented in the context of its place of origin, the lives of the people who live in these places and the history and politics of the musical tradition it represents."
Since its tentative beginnings The Travelling Archive has developed holistically as interests and knowledge have developed. They have been successful in attracting small grants for specific research projects and major developments (such as the website which went live in early 2011). Their work has been shared and displayed in a number of different ways and contexts; from live performances to gallery installation to a series of CD releases. In this exhibition in London's east end Moushumi and Sukanta gather together and present us with a huge range of sonic documents, their own and from other sources, related to the Bengali diaspora, its children and grandchildren to challenge and create, through their listening and our listening, the idea of Bengal now and for the future.
London, June 2015
From the exhibition folder. Cathy Lane, sound artist, composer and researcher, is Co-Director of CRiSAP (Creative Research into Sound Arts Practice), University of the Arts London.
WHOM WE RECORDED
2015
Amal Ghosh, painter. Fulham, London, 21 July 2015.
Anamik Saha, sociologist. London, 2 June 2015
Akro Mukherjee, singer. multi-instrumentalist and composer. Kolkata, 26 March 2015
Arunendu Das, singer-songwriter. Bexleyheath, 25 May and 23 July 2015
Dr Das (Aniruddha Das), bassist, composer, ADF and Shanti Sudha Das, his mother. Harrow, 28 May 2015
Jharna Basu Bhattacharya, writer, widow of Deben Bhattacharya. Kolkata, 9 April 2015
Jibon, student, musician, Amir, singer, Helal Miah, singer and Ali Ahmed, dhol player. Mile End, London. 23 May 2015
Kalyani Kazi, singer, daughter-in-law of the poet Kazi Nazrul Islam. Kolkata, 9 April 2015
Khiyo, with Oliver Weeks, Sohini Alam and Rosalind Acton. British Bengali band. London, 10 June 2015
Richard Williams, music historian and Priyanka Basu, performance studies scholar. London 31 May 3015
Rosanne Dasgupta, retired teacher, widow of folk singer and song collector Kali Dasgupta. Kolkata, 7 April 2015
Sahana Bajpaie, singer. London. 11 June 2015
Sam Mills, musician and composer. and Susheela Raman, singer. London 27 May 2015
Sangeeta Datta, singer and filmmaker, and Soumik Datta, sarod player and composer. Belsize Park, London. 1 June 2015
Yasmin Hossain, fabric designer, and Joan Hossain, retired teacher. Faversham, Kent. 30 May 2015
2006-07
These recordings are kept in the British Library's Sound and Audiovisual Archives as a series entitled 'Migration, Memory and Music'
Ahmed Moyez, Ruhul Amin and others. Betar Bangla, Bethnal Green. 7 August 2006. BL file no. C1346/22
Bethnal Green Bauls, 15 March 2007. BL file no. C1346/27
Baul Abdul Shohid, Akash Sultan, Amina Ali and others. Bethnal Green Party. 17 March 2007. BL file no. C1346/25. (Read and listen here)
Helal Miah and Ali Ahmed. Limehouse, 3 March 2007. BL file no. C1346/24. (Read and listen here).
Kaya and others. Limehouse. 13 March 2007. BL file no. C1346/26.
Ahmed Moyez. Surma News Office. 27 February 2007. BL file no. C1346/28 (Read and listen here)
THANK YOU
We would like to keep a record here of our gratitude to those individuals and institutions, without whose support this exhibition would not be possible.
Oliver Curruthers, and the team at Rich Mix, especially Glen, Lucy, Kenji and Monique, for collaborating with us on this project, giving us time, space and infrastructural support.
Janet Topp Fargion, Lead Curator, World and Traditional Music, British Library, for partly funding the project and to Isobel Clouter, for processing our long requisition list, separately tackling complicated copyright issues with each relevant section of BL, and finally sharing the British Library's resources with us, as well as for giving us room in their archives.
John Roche-Koruda and Shobita Punja of Helen Hamlyn Trust for giving us the main financial support for this project. And to Richard Alford of Charles Wallace India Trust for connecting us with The Helen Hamlyn Trust.
Cathy Lane of CRiSAP came to our rescue when we were at a loss about how we would install sound in the gallery where they had not had an exhibition of sound on such a scale in the past. We too had neither any equipment nor experience, She also very kindly wrote the introductory note on The Travelling Archive for our exhibition brochure. Thanks also to Angus Carlyle and Lisa Hall of CRiSAP for all their help with equipment and printing.
We owe the deepest gratitude to Rosie Thomas and Steve Brookes for giving us space in their lovely house to stay and work; it is a blessing to have such generous friends.
Peter Cusack, our friend and guide, gave us the keys to his apartment. His living room with the fine speakers became Sukanta's much needed studio, his kitchen table Moushumi's writing desk.
Sunayan Roy and Krishnendu Sarkar in Calcutta for designing and printing the exhibition brochure, postcards and posters.
Thanks to Julie Begum, Priyanka Basu, Ranita Chatterjee, Arka Paul, Aranyo Aarjan, Lore Leyssen, Yasmin Hossain and Oliver Weeks for helping in all kinds of organisational and installation work.
It is hard to individually thank all our contributors but their voices are now part of the sound of The Travelling Archive. Thus, the bond is sealed.
Photos of the exhibition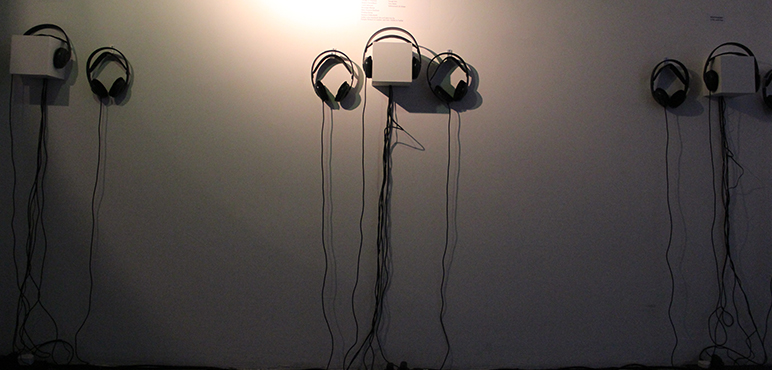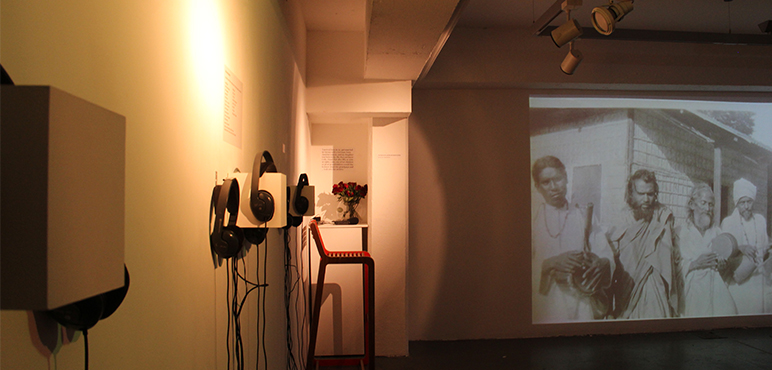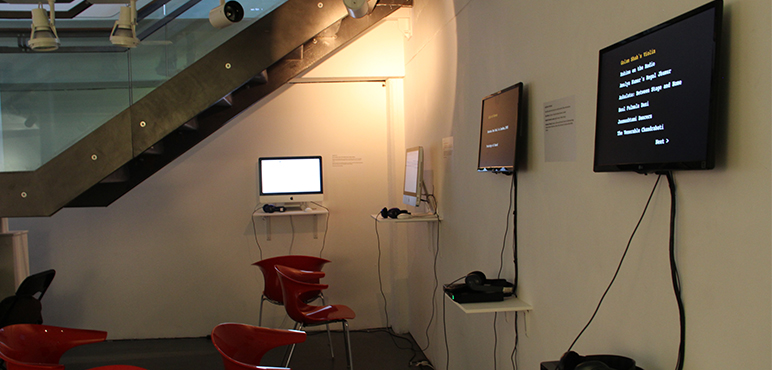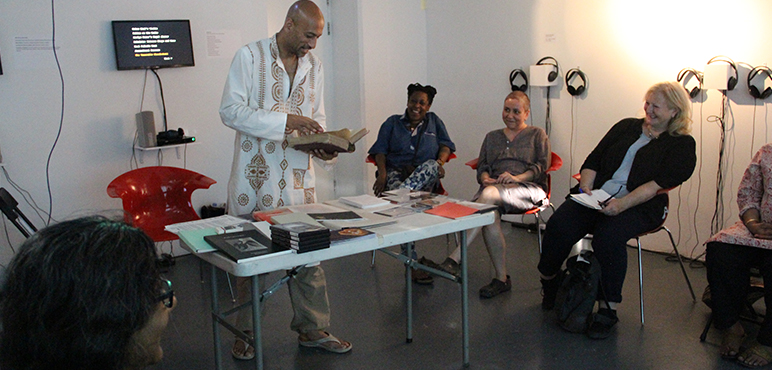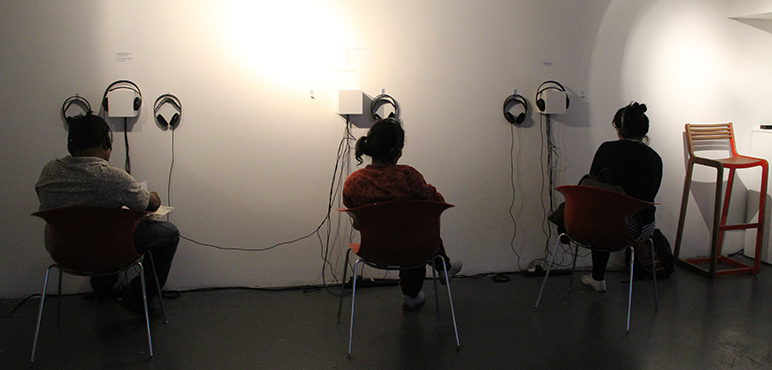 Take a small tour here.
https://www.youtube.com/watch?v=tR2GGKXLQ5o&t=20s