Moushumi Bhowmik is a singer, writer and music researcher based in Kolkata, but works in Bangladesh and eastern India . She writes in both English and Bengali and her essays have been published in several local and international journals and anthologies. Moushumi performs, lectures and collaborates with artists and researchers at home and abroad.
Sukanta Majumdar is a Kolkata-based award-winning audiographer who works mainly in feature films and documentaries, with Indian and international directors. He also teaches and writes about sound, besides being an immersed field recordist. Sukanta also does installations in sound and image.
(http://www.wix.com/sukantamajumdar/soundarts).
Contact
26H East Road
Jadavpur
Kolkata 700032
West bengal
India
Phone +91 33 2412 4032
Mobile +91 9831052990
Email info@thetravellingarchive.org
Notice Board
Shibaditya Sen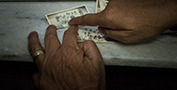 We mourn the passing of Shibda, Shibaditya Sen (1952-2018), our teacher in Santiniketan. Gone too soon, and another light has faded out of our sky.
Read more in our tribute page
Next